Asia Boutique: Asian Dining at the Safir Hotel in Dokki
Safir Hotel Cairo, El Messaha Sq.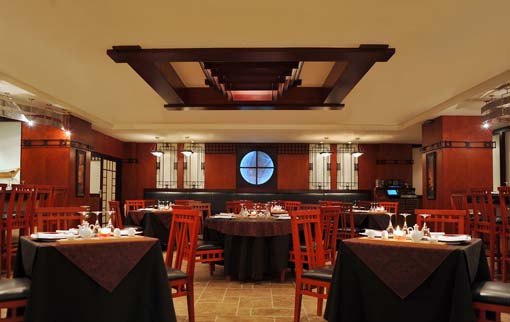 When one
hears the mention of a hotel restaurant in Cairo, images of quality,
perfection, and impeccable service come to mind; along with fantasies of
sumptuous food and good music in. Unfortunately though, Asia Boutique in Dokki
fails to meet these expectations.
An outlet
of the Safir Hotel, the restaurant is located right behind a centrepiece where
two musicians – one a pianist and the other a trumpeter – are set up.
Once inside
the restaurant, our first impression was of how disorganised the space is. There
are two bars, on each side of the restaurant, with no one standing behind
either of them. Don't be surprised if you feel somewhat deserted, because the
restaurant was almost entirely empty during our visit. The lighting was quite
bright, which made us wonder if we came before they had time to prepare.
The
atmosphere at Asia Boutique was not the most relaxing with distracting music
playing in the background. Moreover, the fact that the tranquil music being
played outside was still audible makes you feel that you are in a somehow bipolar
setting.
Despite all
that, Asia Boutique serves delicious Thai, Japanese, and Chinese dishes. We
ordered Tom Kha Khai soup (35LE), vegetable spring rolls (32LE), Thai fried
noodles with chicken, vegetables and egg (48LE), sweet and sour chicken with
basmati rice (65LE), and for dessert, banana pie with caramel and lemon sauces
(40LE).
The Tom Kha
Khai soup had chicken and coconut milk; it was delicious, tasting like a traditional
chicken soup. Although it had many ingredients in it they were all balanced
perfectly. Even its thick consistency was right – not too creamy and too
watery. The vegetable spring rolls came in threes and were served with hot
sauce and endive lettuce- the ideal way to enjoy them.
Moving on
to our main courses, the Thai fried noodles with chicken were not as good as the
sweet and sour chicken. They came with quite a bit of sesame added, which had a
strong flavour and made the dish taste dry. The second item fared better where
the combination of fruit and vegetables was perfect.
We opted
for the banana pie with caramel and lemon sauces; however, it wasn't what we
thought it would be. What we had in mind was a cold banana with caramel and
lemon toppings. Instead, we were served a fried banana with no sauce but a
scoop of ice cream that had coconut and nuts added to it. Nonetheless, it was pleasingly
sweet; the combination of cold ice cream and hot banana was delightful.
Asia Boutique
may have failed to meet our expectations as a restaurant in a big hotel but it still
satisfied our appetites with delicious and meticulously cooked food.