Asian Corner: New Branch in Heliopolis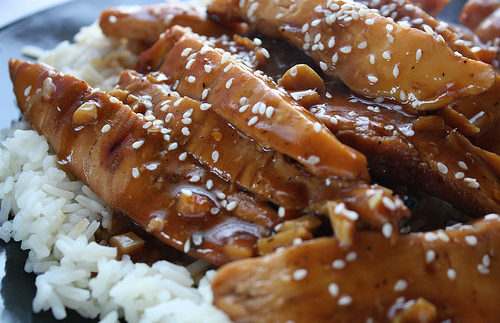 Asian cuisine has found itself a comfortable place in the hearts of many Cairenes. There's hardly a mall or a food court without either a Chinese, Thai, Indian or even a Korean restaurant, not to mention surge of Sushi restaurants across the capital that are now almost as common as kabab and kofta.
Naturally, these Asian restaurants have managed to flourish, and some chose to expand beyond malls and food courts, as with our latest example Asian Corner.
Located in Ismailiya Square in Heliopolis behind the Salam Shopping Centre, small road signs will guide you into a quiet back road. The restaurant has a chic glass facade and its interiors are nothing like its other branches. Modern decor with light wood, ambient lighting, different seating areas with chairs and couches and bar stools make for a pleasant and warm atmosphere, far from the bustle of malls and food courts.
The menu consists of a check list where you choose your dishes and hand it back to the waiter. With options including everything from fish to duck to desserts, and a separate sushi menu, we were set.
The food started arriving about 15 minutes after we ordered. From the appetisers, we opted for Shrimp Konafa (39LE) served with garlic and coriander. From the main courses, we chose the Yaki Tori (44LE) and Spicy Beef with Potatoes (45LE) accompanied by Vegetable Noodles (20LE) and Nasi Goreng (32LE).
The beef was thinly sliced and topped with bell peppers, onions, cabbage, soy sauce and potato cubes. It was mildly spicy, but the beef was slightly undercooked.
The Yaki Tori, a chicken teriyaki dish, was delicious and executed brilliantly. The chicken breasts are thick-cut and made with honey, sesame seeds and sweet soy. Unless you specifically dislike sweet and sour, the Yaki Tori is the dish for you.
The Nasi Goreng – fried rice with shrimps, eggs and vegetables – is one of the best dishes on the menu, simply because of its huge portion and generous amounts of toppings. The vegetable noodles are decent in portion and made with bell peppers and cabbage. Our order was lightly low on salt, but that's intended for you to adjust salt to taste.
We enjoyed our experience, and enjoyed the portions and great service, but we would like to see ready meals in the menu as many customers were confused by assembling the meal, and each entry having its own price.