Asian Corner: The New Comfort Food
12pm - 12am, Thu & Fri 12pm - 1am -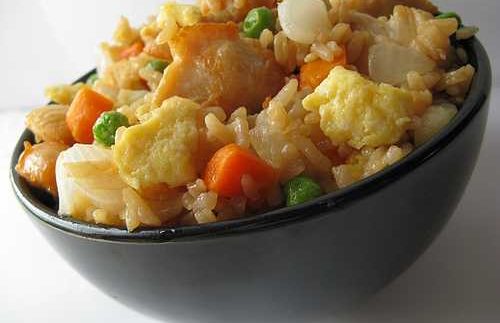 Like
pilates, puppies and fluorescent polo shirts, nouveau Asian cuisine seems to
have been making a splash on Cairo's
dining scene for the past year or so. Enter Asian Corner, an aptly named
second-story eatery on a quiet street in Maadi.
Located
next to heavy-weight steak servers Spectra, Coffee Roastery and local favourite
La Casetta, Asian Corner stands out with bold-faced décor of shiny lamps,
bamboo shoots and elaborate calligraphy portraits.
We're
not sure whose version of Thai, Japanese, Chinese and Indian food the kitchen
serves but it makes for a colourful, filling spread that we seem to have grown
quite attached to.
If
this is your first visit, you might never guess that the branch first opened up
as a food court venue in City Stars; so quaint and detailed is the
modern-oriental interior.
Asian
Corner's vegetable spring rolls are greasy and delicious (12LE), accompanied by
a sweet orange duck sauce. The fried rice with seafood is addictive, if a
little heavy on the oil, as are the Thai noodles– both items are in the 30LE-range.
The fish in garlic ginger (29LE) comes with a sweet garlic-ginger sauce, delicate
white fish with a lightly fried exterior infused with chives and best enjoyed
with a side of steamed rice.
Asian
Corner also serves sushi; not as noteworthy as the spring rolls, noodles and
fried rice dishes, but it nevertheless has an extensive menu to choose from. You
can choose from classic California,
caterpillar and dragon rolls, with prices ranging from 7LE per piece to upwards
of 60LE per roll.
The
restaurant tends to have a substantial number of wait staff at all times, which
makes for a few hairy experiences when the tables are full to capacity and
heavily laden trays are whisked through the air. Waiters are exceptionally
friendly and attentive, and have mastered navigating the dividers, potted
plants and half-curtains in the dining space.
Asian
Corner has opened our eyes to a new variety of comfort food, such as the especially
cosy and large mugs of green tea infused with jasmine, ginger or mint that are perfect
for either a precursor or an ending note to an afternoon meal.
While
we usually skip both the curries and the desserts, a tabletop spread of spring
rolls, dumplings, fried rice and noodles and a main course goes down well for a
casual catch up, if your dining companions have healthy appetites. A meal for
two averages at 200 to 300LE for a full spread.
Delicate
and refined it may not be, but the kitchen gets a solid nod for pleasing our palates
with something of a unique edge.