Au Petit Bistro: Adorable Francophone Dining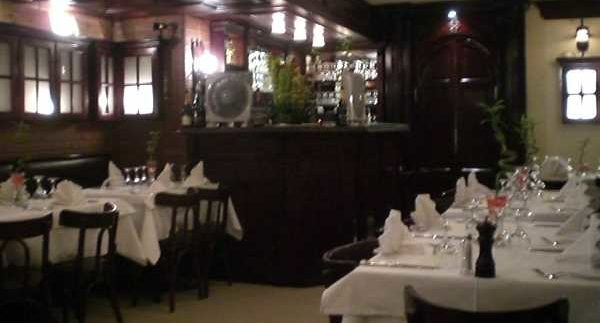 This tiny French bistro with its unassuming exterior behind Mohandiseen's Shooting Club has
received high praise for its food and atmosphere. With deep wood accents and soft lighting
hidden behind frosted cabinet doors, this small and classy restaurant certainly
set an intimate scene for a romantic dinner for two – if not for the boisterous
group seated beside us.
The French music,
old movie posters and classic bar lend a touch of authenticity. Despite its
small size and the potential disruption, it's also nice that there are enough
benches to host a small group or two. The service, however, is slightly intrusive;
it was annoying when the waiter rearranged the table setting while we were
still enjoying their freshly baked bread and the following course wasn't yet ready.
They brought us a
bitter olive tapenade with slices of toasted baguette to start before our
appetisers of shrimps in saffron sauce, and what we thought was an order of
chicken liver with mushrooms and blue cheese but turned out to be a chicken
liver paté accompanied by minced mushroom and blue cheese spreads.
Despite its
unimpressive appearance in little egg cups, the chicken liver paté was quite
flavourful and included deliciously sweet caramelised onions. Too bad it only came with three half-slices
of multigrain bread, forcing us to wait for our bread basket to be replenished. The shrimps were more disappointing, floating
on their own in an inconsistent yellow sauce that tasted of tap water.
Our mains fared
better. The grilled beef fillet with
herb butter and scalloped potatoes au gratin, and the beef fillet with foie
gras and Madeira sauce, hazelnut potatoes and mushrooms weren't fantastic, but
we had no major complaints… except that the foie gras was a little too rich, the
potatoes were strangely dry and the mushrooms were bitter and drenched in a
sauce that again tasted of tap water. The
second fillet was a fantastically juicy slab of meat that we must give proper
kudos to.
To finish our
meal, we decided on profiteroles but not without the intervention of the French
manager, who gave us a jolt when she magically appeared at our table, but
proved to be completely kind and charming with an accent that would have made Maurice
Chevalier jealous. She managed to make
everything sound delectable, and the dessert was indeed the best part of this
meal; three light, crispy pastries filled with home-made vanilla ice cream–
just one of many home-made flavours– and a warm chocolate sauce poured on top made
it refreshing and delicious.
We really wanted
to like Au Petit Bistro more than we did, and while it certainly has its
strengths, we're not sure what all the fuss is about. The restaurateurs certainly know what they're
doing: Au Petit Bistro is owned by the same people that brought us Maison
Thomas, La Trattoria and Charwoods. Perhaps Au Petit just wasn't our slice of pate, but for 450LE on a
dinner for two without alcohol, we suppose we were expecting a little bit more.