Bab El Nil: Fairmont Nile City's Ramadan Tent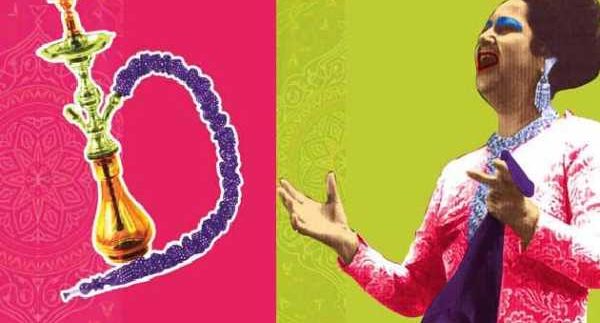 After a long day of fasting, a luxurious fetar in Cairo can elevate you
back to cloud nine. At Fairmont Nile
City and Flower Power's rooftop tent, Bab El Nil, you will feel on top of the
world.
The pop-art themed fusion menu at Bab El Nil is an idyllic spot to spend
an evening this Ramadan. The outdoor seating area is spread over a wide terrace
overlooking the Nile with a gorgeous view of Cairo's skyline. Groups of couches, coffee
tables and beanbag chairs as well as TVs playing Ramadan series offer a great
lounge setting, while those serious about the buffet may opt for the large and
festively decorated tables. Pop-art prints of Egyptian silver-screen stars grace
the wall and dazzling orbs hang from the lattice for simple, yet swanky decor.
The buffet is brilliantly located indoors, keeping the food safe from
the elements. The generous spread is
inspired by the menus of Napa Grill and Saigon Bleu as well as some traditional
favourites. Starters include the
expected bunch: sambousak, kobeba, baba ghanoug and a slew of other creamy dips
as well as fatoush and incredible taboulah. Fresh salmon nigiri, leafy goat
cheese salad, and potato leek soup are a few of the non-traditional items on
offer.
Hot dishes for round two of the evening's gluttony include a pasta
station, several tagines, potato soufflé and ratatouille. A meat-carving
station features a leg of lamb and stuffed hens. Don't miss the grill station on
the terrace for charcoal chicken, kofta and lamb chops, which are hands-down
the best of the bunch.
The centre of the buffet room holds a self-serve juice station with karkadeh,
sobia, amar el din, and dom. Unfortunately, the juices were rather weak and didn't
excite us.
At first glance, the dessert station seems to offer only oriental sweets.
The sweets are tasty and the om ali came out on top, but the absence of eshta
made indulging in the pastries difficult for this reviewer. On the shelves to
the left of the traditional sweets, mini-portions of rice pudding, crème
caramel and fruit tarts as well as crème brûlée are available. The crème
caramel was smooth and silky, with plenty of liquid caramel below.
The buffet runs 188LE a person and does not include well-attended shisha
(25LE) or piping hot Turkish coffee (15LE), but both are a good idea for
relaxing after the food frenzy. Bab El
Nil shows potential to be splendid every night of Ramadan, with both fetar and
sohour promising to delight the senses.