Barry's Oriental Restaurant: Front-Row View of the Pyramids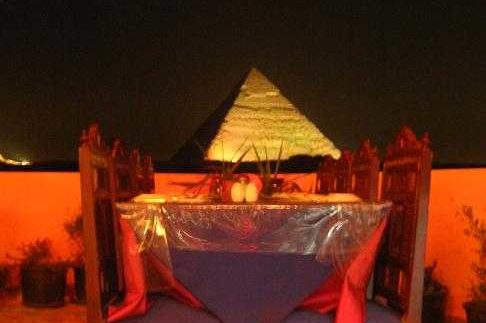 The great Pyramids of Giza can easily be taken for granted or
ignored as we drive past them every day. For a refreshing reminder of their
breathtaking view, try Barry's Restaurant.
Aside from the Mena Oberoi hotel, this bi-level restaurant offers
the most picturesque and unobstructed view of the Pyramids and the Sphinx;
there's literally nothing between you and the Pyramids apart from a few hundred
meters of sand.
Dinner at Barry's during the Pyramids' Sound and Light show is a
funny yet fun experience. The laser beams and coloured lights on the Pyramids
are quite cheesy, and the voiceovers are entertaining enough to keep you
sniggering through dinner.
Built on what was originally a mud stable just five years ago,
Abdel Bary (or Barry as he calls himself) entertains mostly tourist groups and
ex-pats; he is yet to be discovered by Egyptian diners.
The restaurant itself is an eclectic mix of antique/memorabilia
and oriental decorations. He may have gone overboard with the flamboyant decor;
but the multi-level chandelier is pretty, as are the arabesque wooden armchairs
and coloured blown glass vases. The decorations, design and atmosphere of the
restaurant are less authentic and more catered to what tourists would expect to find in an Egyptian restaurant.
The restaurant recommends that you make reservations and it offers a
set group menu for 200LE a head, while an à-la-carte option is also available.
Barry's menu is very traditional; offering the typical oriental
appetisers of baba ghanoug, hummus and falafel, all ranging between 14LE and
20LE, none of which are particularly special.
The lentil soup (15LE) was a rather bland but welcome option; the
desert night wind had most of us shivering in our thin summer jackets.
For our main course, the mixed grill and kofta platter was fine,
though a tad bit overcooked, while the pasta primavera option was rather
confusing- we don't remember pesto being an authentic oriental ingredient, but
oh well.
What Barry's does well is its vegetables, all of which are
supposedly organic and fresh off a nearby farm. The mixed grilled vegetables
dish had an interesting blend of herbs, while the Greek bake was a well-roasted
dish of eggplants covered in a layer of grated cheese; simple but strong in
flavour.
The Om Ali for dessert was hot enough, sweet enough and mushy
enough to meet our satisfaction, but like the rest of the meal, it didn't
really blow us away.
At the end of the day, Barry's is less about the food and more
about the view, which compensates for the ok food, the not-bad drinks and the
hefty bill that comes at the end of the meal.