The smell of freshly baked bread and sunny mornings spent having breakfast with our family are
memories we all want to go back to, and Bäxters European Kitchen is helping us recreate that
feeling with its baked goods and brunch specials.
With a spot at O1 Mall in New Cairo, this family-oriented business was founded by four sisters
with Finnish heritage. Taking inspiration from their grandmother, a bäxter—or female baker—
herself, the sisters bring the comforting taste of her cooking to Cairo.
We decided to start our day off the right way by visiting Bäxters for its special opening brunch.
We immediately felt as if we had been invited over for a meal with family. With a simple, chic,
clean design, this bakery makes you feel right at home. As we sat outside, the rustic wood
furniture and surrounding greenery felt like the perfect setting for a picturesque brunch.
The bakery's brunch menu lets hungry guests pick a certain number of items for a set price,
whether from the bakery, eggs, fruit and vegetables, dairy, meat and fish, or dessert. Three things
run to EGP 140, while five are EGP 220, and seven are EGP 310.
With empty stomachs and high expectations, we started off the most important meal of the day
with an Iced Latte (EGP 55) and a Mixed Berry Smoothie (EGP 85). The latte had the perfect
ratio of milk to coffee with just enough sweetness, but it was the smoothie that really impressed
us, tasting so fresh that the berries were probably picked that morning.
There may be a bakery on every corner of Cairo's streets, but few can compare to the bread we
sampled at Bäxters. Its Ciabatta Twists come in different flavours with cheese and either fresh
oregano, bacon, or jalapeno. We also sampled the baguette with olives and the focaccia; each had
a crunchy exterior with a soft inside. Undoubtedly, the true test of a bakery is the quality of its
croissants, and Bäxters certainly didn't disappoint. Just listen, and you'll hear the crackling as
you pull apart that flaky goodness.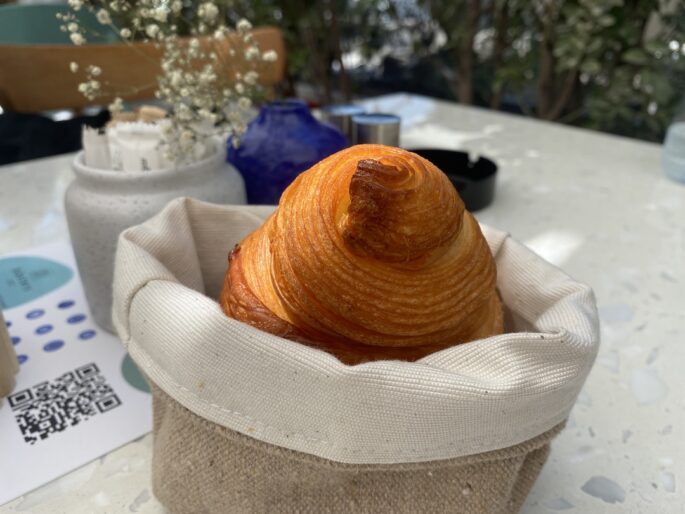 Next up was a gorgeous spread with scrambled eggs and mushrooms, Norwegian smoked
salmon, apple slaw and a Nutella bite. The eggs were so creamy and flavorful, and they tasted
delicious on their own or on top of a fresh piece of bread from the basket we received. Moving
on to the salmon, it was fresh and flavourful without being too fishy and was complimented
perfectly by the lemon dill cream cheese spread. The apple slaw was a sweeter take on the usual coleslaw, but the raisins and apples in this dish
balanced out the flavours perfectly.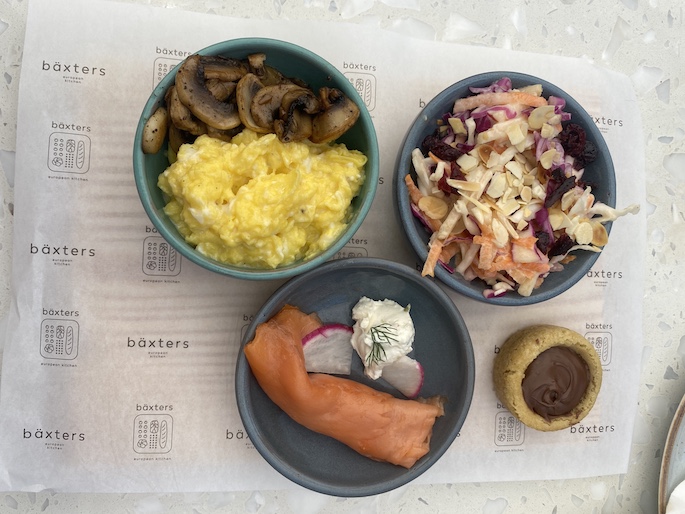 Although we were stuffed to the brim, we simply couldn't resist tasting nearly every dessert they
had to offer. When things look that good, who can say no? From indulgent fudgy brownies to
lighter treats like the bakery's mini lemon cakes and heavenly blueberry sheet cakes, Bäxters has
mastered its craft. Its little Finnish wonder, Pulla—a cinnamony, buttery Finnish bread—was
absolutely delightful without being overwhelmingly sweet. And we're still dreaming about its
chewy chocolate chip cookies and super moist carrot cake.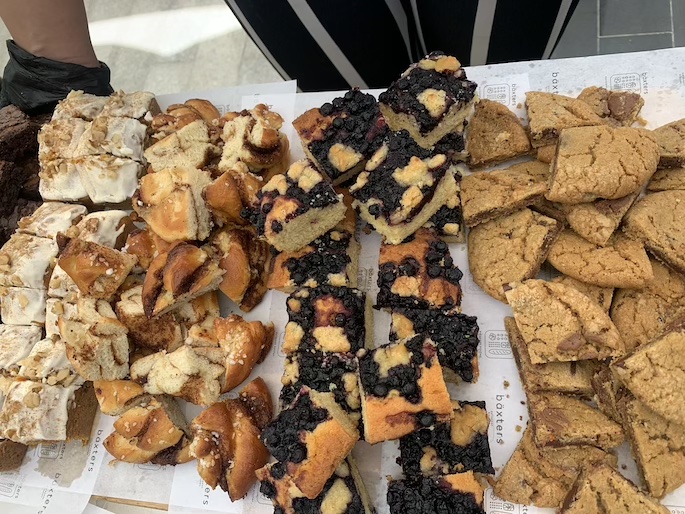 New Cairo finally has its own family-owned bakery to rival the authenticity of those in areas like
Maadi and Zamalek now that Bäxters has opened its doors. So whether you want a cosy
breakfast date spot or plan to invite the whole family out for a get-together, you'll find baked
goods made with the kind of love only found in your grandma's recipes here.