Beetroot: Elegant Dining by the Nile from the Makers of the Lemon Tree & Co.
19 Saray El Gezirah St. Zamalek
Though it was enjoying a fair amount of popularity, the Lemon Tree & Co. was shut down by its owners last year to make way for new concept, Beetroot. Offering the same exquisite Nile view, an elevated atmosphere and an all-new menu encompassing international dishes and some novel specialities, we paid a visit to the Imperial Boat-located restaurant, keen to find out why this has been earmarked by many as one of the best new restaurants in Cairo.
Similar to its former concept, Beetroot maintains a level of subtle class thanks to its outstanding interior – quirky wicker lighting, wooden floors, plants dangling from the walls — and a comfortable, inviting atmosphere.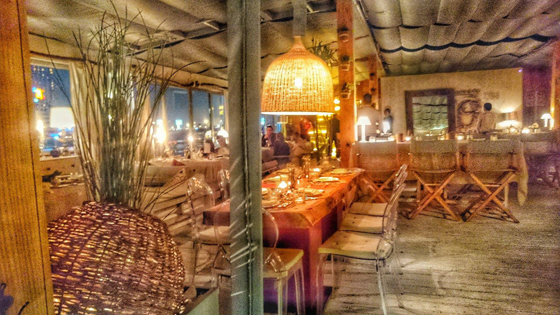 Engrossed by the setting, we were instantly ready to order, opting for Crispy Golden Zucchini (36LE) as an appetiser and Lemon Sage Chicken (104LE) and a Beetroot Burger (94LE) for our mains.
Looking like zucchini fries, the crispy golden zucchini had a perfectly-fried, light and airy tempura crust and an overall on-point taste; so much so, that we would venture to say that it was the best dish we tried during our visit. One of the zucchinis was actually mistakenly stuffed with ricotta cheese and tasted similar to blossom zucchini – maybe a combination worth adding to the menu.
After the flawless appetiser, we were expecting the same from our mains, only to end up a little underwhelmed. The Lemon Sage Chicken was served with sun-dried tomato orzo, which had a strong tomato flavour, some sweetness from the sun-dried tomato and a pleasant taste. The chicken itself, on the other hand, was well-cooked but was a little unbalanced in flavour, with the lemon-sage sauce being far too bitter, ruining what could have otherwise been an excellent dish.
Moving to the Beetroot burger, we were excited for the beetroot bun idea, but it was too dense and the edges were stiff. Topped with tomatoes, lettuce, and canned mushrooms, the burger patty was very juicy and well-cooked; however, the sandwich overall was rather dry, partly due to the scarce amount of smoked cheese sauce that was lost in a bad burger-to-bun-ratio. The burger was served with scrumptious onion rings with a crunchy crust and delightful fried potato cubes, which were topped with parmesan cheese and a drizzle of truffle oil. The combination created a nutty, earthy flavour, which outshone anything else on the dish, hands-down.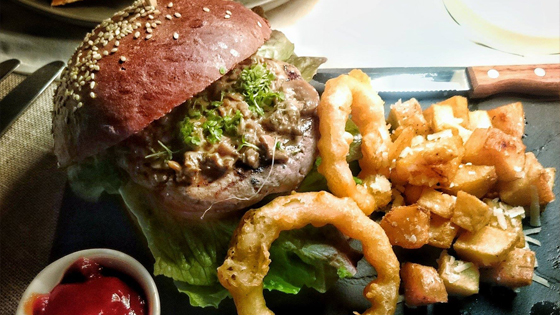 We finished our meal with Apple Cinnamon Burst (52LE) – essentially a gourmet apple turnover. Dusted with powdered sugar and filled with caramelised apple that had a little bite to it, this dessert was literally bursting with cinnamon flavour and the creamy vanilla ice cream added a nice contrast. In addition, the dough was cooked to perfection, boasting a beautiful golden colour to it.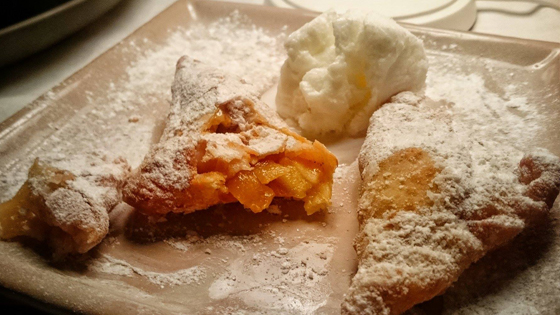 All in all, we left Beetroot with mixed feelings; on the one hand, we can have little to complain about when it came to the outstanding presentation of the dishes and ambiance. But on the other, some of the flavours didn't quite live up to the atmosphere and concept, not to mention the steep prices. Overall, though there's nothing that can't be fixed with some minor adjustments and we'd have no qualms in going back to Beetroot.