Begum: Outstanding Indian Restaurant in Maadi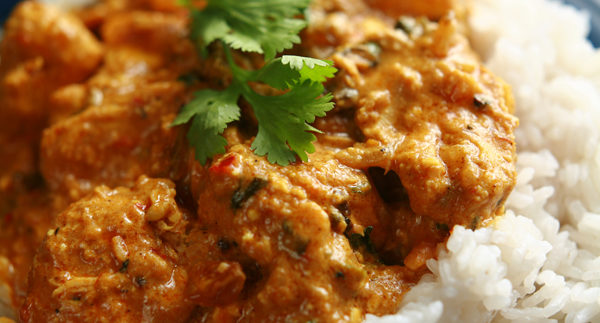 We love Indian cuisine. It's rich in flavour and completely immerses you in the eating experience. Begum, Nawab's sister restaurant, has a modest venue on Road 276 in Maadi. Dimly lit and decorated with Indian paintings and murals, and furnished with dark wood tables and chairs, be prepared for a very decent feast.
The menu is quite extensive and features everything from soups and appetisers, to chicken, lamb and seafood. It also includes Indian desserts like Kulfi, the Indian version of ice cream, and Gulab Jamun, a dough ball with milk solids deep fried and served with syrup.
We dove into the menu to compare one of our favourite dishes, Butter Chicken, and pick something we haven't tried before as well. We opted for the Chicken Butter Masala (45LE) as well as Chicken Shahi Korma (45LE). Additionally, we ordered Basmati Rice (16LE) and Vegetable Pilau (28LE) and Garlic Butter Naan (9LE), because you will, of course, want to dip straight into the sauce.
The food was served a fair 20-30 minutes later. To be fair to Begum, their Butter Chicken is a little different to other restaurants; it's not as heavy or creamy, but slightly spicier and, as always, very flavourful. The chicken cubes were large, tender and tasty. The Vegetable Pilau, made of yellow basmati rice with vegetables, cottage cheese and nuts, was a very teasing mixture of flavours and textures which, together with the chicken, created a very satisfying meal.
The Chicken Shahi was even tastier. Cooked with yoghurt, cashews and almonds creating a delicious gravy sauce, the dish was just irresistible. Combined the simplicity of white basmati rice, or the tasty Garlic Butter Naan, the Chicken Shahi has easily become our favourite dish at Begum.
Begum fared very well, the service was fast and efficient, the food was delicious and the bill was very decent. It checks all the boxes required for a no-nonsense, eat-until-you-can't-eat-anymore restaurant. It also offers Desi-Chinese cuisine at its sister venue China Town at the same location in Maadi, which is a cuisine made popular by chinese immigrants in India