Bin El Kasren: Garden City Fiteer Feast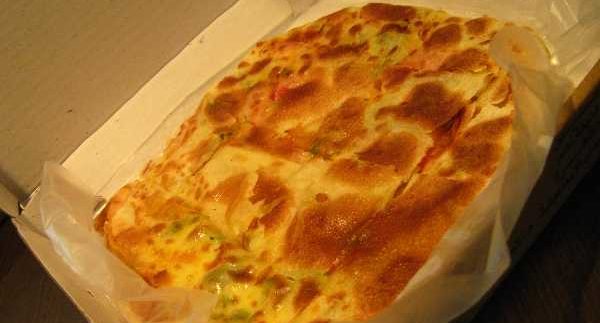 A delicious crust, gooey cheese, vegetables and meat make up one of
Egypt's greasiest, tastiest snacks: savoury fiteer. If this sounds a bit like
pizza to you, that's because the two are indeed quite similar, and at Bin El
Kasren in Garden City, you can get your fill of both.
A colourful front entrance leads to a very crowded shop of oriental sweets,
candies, cakes and fiteer. To eat at the shop, you must pass the hot oven, a
counter where fresh dough is constantly being kneaded by hand, to a staircase
leading up to a loft of a few tables overlooking the tiny eatery. The tables
aren't the cleanest in Cairo,
and the service is sometimes neglectful, but a high turnover demands that the
food is fresh and well worth forgiving these shortcomings. If the atmosphere
and service are too much to bear, Bin El Kasren offers delivery service to
nearby neighbourhoods.
Savoury fiteer comes with a wide range of fillings, including chicken,
tuna, beef, egg-chopped tomatoes, olives and peppers and several cheeses such
as rumi, mozzarella and cheddar. Mozzarella with chopped vegetables (12LE for a
small fiteer) is a favourite, but no matter how you like you fiteer filled; the
flaky, golden brown crust is sure to be a hit.
The list of Italian and Eastern pizzas feature almost identical toppings
as the fiteer fillers and making substitutions from the written menu is never a
problem. Although the crust is a bit bready, the vegetable pizza (10LE for a
small) is surprisingly tasty, with a slightly sweet tomato sauce complementing
the salty mozzarella. All fiteers and pizzas are offered in three sizes; so you
can be easily satisfied according to your appetite. Nearly everything on offer
is served with a healthy drizzle of oil on an already greasy dish; so sensitive
stomachs would do well to request the order without the oil.
Sweet fiteer is on offer if you've saved room for dessert, and a number
of cakes are available; yet the very full dessert cooler of drying baked goods
implies that it may not be this restaurant's strong suit. At 3LE, the om ali makes a
much better option, but both the dessert and the rice pudding don't compare to
Bin El Kasren's fiteers.