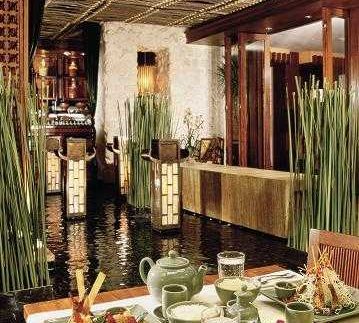 Housed in the Intercontinental Semiramis Hotel on the Garden City corniche, Birdcage is one of Cairo's better known Thai restaurants. Located off the main hotel lobby that is both sombre and gaudy, the restaurant's atmosphere is elegant with a dimly lit interior and an exotic, if not slightly contrived, touch of Thai décor. The flowers adorning the glass tables are painted in rich, deep hues while water fountains tinkle musically, making for an enchanting and somewhat other-worldly ambience.

If you're in search of an exotic and lavish dining experience, then Birdcage is the place for you. For more simplistic modern fare, however, you may want to look elsewhere.

While the ambiance may be a little much, the service is usually impeccable and attentive. Snippets of French, Spanish and Italian conversations can be overheard throughout the meal from the primarily foreign clientele, adding further intercontinental flare to the meal.

The restaurant serves drinks, though not Thai beer to one of my companion's great disappointment. Also absent is the creamy, sweet Thai iced tea and coffee I so look forward to when dining at a Thai restaurant. The spring rolls, however, are a perfect, flaky, golden brown and the dipping sauce has the ideal balance of sweetness and spice.

On my last visit my companion was vegetarian, and while little on the menu came without meat, the waiter was quick to offer to create their signature green and red curries with a myriad of fresh vegetables instead. The duck with red curry was fantastic and the green vegetable curry arrived perfectly seasoned with the right hint of spice. In true Thai character each plate was exquisitely laid out with floral creations sculpted out of carrots and greens. The restaurant's menu is not extensive but each dish is well conceived, executed and most enjoyable with prices that are moderate for an upscale hotel dining.

Unfortunately, the dessert can be far less pleasing. The Thai Tartuffo, a spin on an Italian chocolate and ice cream concoction, is overly sugary and lacks any real flavour besides overpowering sweetness. Still, Birdcage certainly provides a luxurious Thai dining experience that is rich with atmosphere, flavourful dishes and a brief sojourn to a world far from the crowded corniche a few floors below.