Black Rock Restaurant: Confusing New Steakhouse in Zamalek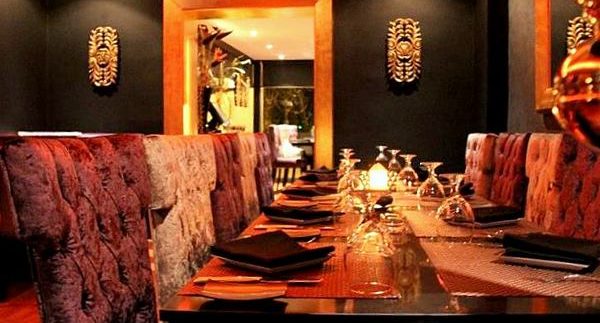 It is always exciting to hear about a new restaurant opening
up because it holds the potential of becoming the new favourite spot to grab
lunch, catch up over a drink or go out on a date. Black Rock, on Al Kamel
Mohamed Street in Zamalek, is categorised as a steakhouse and promises
delicious flavours trapped inside of every bite.
Directly across the Aquarium Grotto Garden, Black Rock at
first glance looks nothing like one would imagine. Although it's located in an
ideal location, in a truly nice area, its shiny, somewhat polished décor didn't
blend as well as we'd anticipated. The impression is that the restaurant probably
serves Asian cuisine, or so the interior highly implies. A black and gold
palette fills most of the wall space – with a fully gold wall taking up most of
the restaurant – as well as smaller details, such as the gold menu. The chairs
that almost shine in their velvet upholstery complete the somewhat overly
flamboyant design. Whether or not this is a matter of taste doesn't make a
difference because either way, it does not look like a steakhouse.
The restaurant at 7:30PM was completely empty which was only
nice because we got to sit by the window. It was disappointing to find a flyer
on the table with what could only be described as a terrible photograph of one
of the dishes; the menu itself wasn't much more impressive with weak English
and unappealing layout. The food itself was confusing. The appetisers were a
combination of basic salads, traditional starters and Asian dishes. From
amongst the spring rolls, tiger shrimp, Carpaccio and noodle salad, we settled for
the latter. The salad (36LE) was neither wonderful nor awful. It was light and fresh but
there's nothing that really stood out about its taste; it also had too little
vegetables in ratio to the noodles.
The main courses we chose were the Black
Rock fillet (180LE) and Peri Peri chicken (110LE). An original approach to
dining, Black Rock gives you the option of cooking your own meat on a heated slab of rock at your table, which we decided to try. The idea was interesting
and we felt adventurous but it didn't fare as well as we'd hoped. Though the
process comes with a guide – telling you to cut bite sized pieces at a time to
cook –our inexperience with grilling left the meat overcooked and not too
appetising. The meat kept sticking to the granite, inducing a definite skin-crawl
every time a piece were ripped off, feeling like a piece of Velcro. The chicken
with Peri Peri sauce, that didn't taste so Peri, was decent but had some fat
and cartilage that should have been removed prior to serving. Both dishes came
with a selection of dipping sauces and the chunky chips we chose as a side were
more like wedges and seemed like they might have been from a frozen packet.
The cheesecake (38LE) for dessert was also served on a
'black rock', only this time it was cold. The portion of cake was small and elaborately
styled; it tasted relatively good. Using us as guinea pigs, the manager offered
a complimentary dessert of chocolate fondue, wanting our feedback as to whether
it should be included on the menu. The plate of fruit was nicely varied, with
added marshmallows, and the dipping chocolate was well sweetened with the right
consistency, so it certainly got a yes.
The service was over eager, with a waiter almost whispering
in our ears every five minutes – perhaps this was because for the most part we
were the only two people there; the music, as in most places, was disengaging
and for these reasons the overall ambiance wasn't enjoyable. We understand that
this is a new venue and they still have a lot to learn and improve on, however
we can't help but wonder: isn't this in fact the time you need to be making the
best impression?