Bon Appetit: Egypt's Fast Food Staple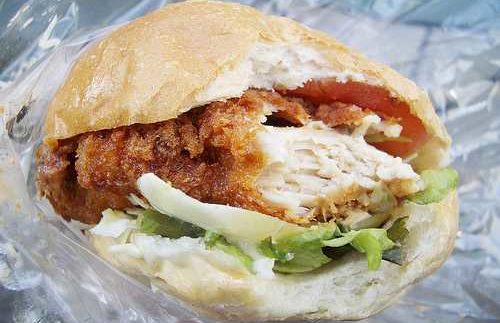 There is
certainly no shortage of fast food restaurants in Cairo. Foul and falafel stands, road-side corn and potatoes, and shawerma are
ubiquitous; and you can't travel through Downtown Cairo without the not-too-subtle
reminder of American fast food chains' presence in this city. These quick fixes
are mostly delicious and often guilty pleasures. However, if you like to know what you're
sinking your teeth into, many of these eateries may leave you a little wary. Cairo fast food chain Bon
Appetit does without the mystery meat, and simply satisfies your greasy
cravings.
Bon
Appetit's Zamalek branch on Ismael
Mohamed Street has a clean but cramped interior. Customers
order at the counter before having a seat at one of the low-budget tables.
Because seating is rather scarce, many prefer to order Bon Appetit as
delivery.
The menu
consists mostly of sandwiches, a few salads and several entrées. The roast beef
sandwich (12LE for a medium) is quite simple, consisting of a few slices of
meat, sliced tomato, shredded lettuce and mayonnaise. The sandwich is simple,
but the roast beef is tender and thickly sliced. The chicken pane sandwich (13LE
for a medium) is a Bon Appetit staple, earning huge points for containing recognizable
chicken. When you bite through the thick
golden brown crust of this fried favourite, the chicken is revealed to be a
cutlet of meat, rather than a composite of…let's not think about it. The white sandwich rolls are soft and always
fresh, thanks to the chain's high turnover.
If you're
looking for a salad that doesn't consist mostly of iceberg lettuce, this isn't
your spot. However, their vegetables are mostly trustworthy, and the dressings
are fine; so they make a decidedly healthier side item than Bon Appetit's French
fries. These come in two styles: shoestring fries (4LE) as part of a sandwich
combo– along with a drink– and heartier potato wedges (6LE). Both options are exceedingly greasy and mushy;
the shoestring fries tend to be especially limp and don't travel well if you
order delivery. Most disappointingly,
ketchup was not included in the order. Still, as far as a quick meal in Cairo
goes, Bon Appetit gets the job done.