Bon Bini: Beautiful Nile-side Location for the Teeny Boppers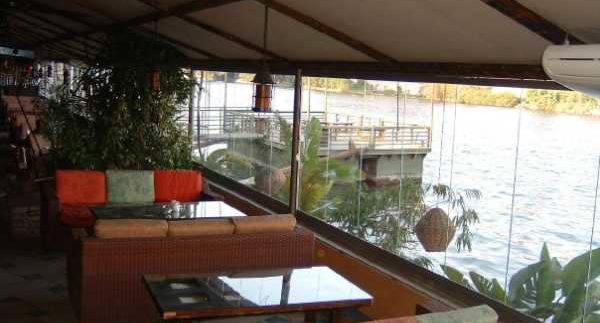 Looking like a Nile-side
tiki-hut in the afternoon, Bon Bini is relaxed and enchantingly close to the
river's waters, with both laid-back indoor couches, and outdoor dockside
seating. It seems like the perfect place
to wile a few hours away while waiting for sunset, and that's just what we did.
Amidst lanterns, straw
roofing and wicker chairs just across the river from the Cairo Tower;
we began with an appetiser of mixed sambousak (18LE) and a drink creatively named
try me (13LE). The cheese sambousak was melted with a subtle hint of mint, and
the ground meat was well-spiced and tasted like home cooking. The try me
consisted of cantaloupe juice and vanilla ice cream, and we sure are glad that we
tried it because the combination was pretty yummy, though a little sweet.
For a main
course, the Bon Bini fish fillet (54LE) and the beef stroganoff (62LE) arrived
on large platters filled with meats and sauces, rice and deliciously seasoned
roasted vegetables. The beef was chewy and slightly swimming in sauce, but the chef
certainly got the flavours right and the mix of onions and peppers blended
nicely with the stew. The fish fillet
was actually four or five large chunks of fish in a white cream sauce flavoured
with dill and cooked to perfection. There was so much food; we couldn't finish it. Overall, we were
surprised; the little tiki hut seemed like a much more casual outfit than what
we had anticipated, and we were impressed.
For dessert, we
opted for a cup Denmark (20LE) that consisted of two scoops of good vanilla ice
cream drizzled with warm chocolate sauce; a simple but delicious dessert.
Unfortunately, as
the night progressed, the place went from calm and serene to hoppin' and
poppin', and not necessarily in a good way. The music went from loud to louder– so much so that we had to yell our
conversation, despite sitting right next to each other– while the crowd went
from young to younger. One young mother was enjoying her time with her toddler
and some shisha, while other patrons lounged in front of the four flat-screens
and large TV screen showing a match. The
group seated next to us had one young lad jumping the railing repeatedly like
he was doing hurdles, and basically it all became a bit of a zoo, which would
have been fine if there were a dance floor there to justify the festive
behaviour.
Still, the food was tasty, and Bon Bini suffices as a good place to
grab a cool drink or a quick bite to eat.