Brunch at the Fairmont Nile City: Classy Buffet, International Cuisine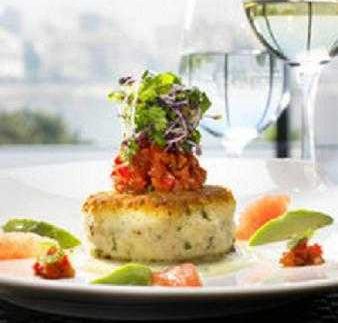 The Fairmont Nile City is too classy an establishment to refer to its new Friday brunch menu as an open buffet; but when you walk onto the R level of the Nile-side hotel, that's exactly what you find: endless rows of buffet tables display salads, cold meats, sushi and sashimi, oysters, dim sum, Peking duck, pizza and pasta. It's like an explosion of international cuisine, catering to every need and every taste imaginable.
Held every Friday from 12AM to 4PM, the buffet is stationed between Fairmont's Napa Grill and Saigon Bleu (watch out for our upcoming review), so you can choose seating in either of the two restaurants. Waiters eagerly urge you to your table and offer to prepare your dish to save you the trouble of walking around; but that's the fun part of the whole brunch.

Take heed from this reviewer and do not let your eyes get bigger than your stomach; and above all, do not combine strange foods: we got a little excited about the sushi, then ordered an omelette, then selected their dim sum, then had a muffin, then severely regretted it for the next few days.

Standout items are the Napa green salad, which mixes crispy goat cheese with greens and mustard dressing in a palate-pleasing crunchy-sweet-sour combination. The cherry tomatoes salad with caramelized onions and currents is also fresh and tasty, though its dressing could be zestier.

In the pastry corner, the carrots and zucchini muffin had our muffin expert clapping with joy, whereas their fresh waffles were dry and too chewy for our taste.

On our third trip back from the sushi bar (which had excellent salmon sashimi, by the way), we turned a corner and stumbled into cookie heaven. The dessert bar displays rows of mini cakes, pastries and shot glasses of creamy mousses. The mini glazed éclairs were delicately sweet, while the tiny strawberry meringues with chocolate chip filling were perfectly chewy.
The highlight of our day was the chocolate fountain, surrounded by bowls of strawberries, kiwi slices, marshmallows and other delicacies to dip into the flowing dark chocolate.

The problem here, though, is that the dessert is so heavy; it knocks you out for the rest of the meal and you can hardly stomach the sight of the Peking duck.
A more intelligent person here might ask why eat dessert first and then the Peking duck? The answer is that some people go a little bit crazy at the sight of an open buffet. This reviewer is one of them.

The buffet selection is definitely geared to fans of protein-heavy brunch; we were surprised to find a shawerma stand but no fruits corner, for example. The meal is satisfying enough to be brunch, lunch and dinner; so you're definitely getting your value for money at 200LE per person.