Bua Khao: Wavering Thai Favourite in Maadi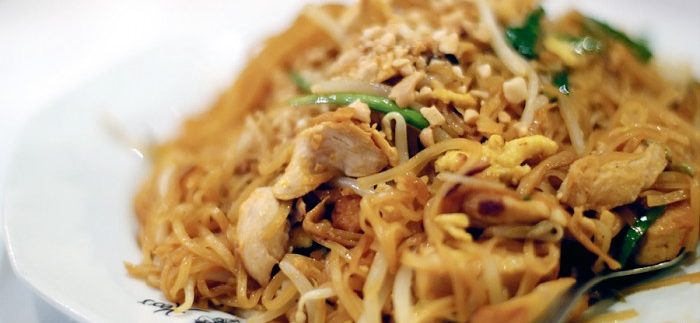 Some restaurants in Cairo get by just serving good food. They have neither a view, nor a particularly fancy venue. It's just good quality food. Bua Khao is one such restaurant, but the popular Thai eatery has been quite inconsistent with their food as of late. We wanted to see for ourselves how our meal would go so we stopped by the small venue on Road 151 in Maadi.
Still ever-so-slightly shabby, the small flight of stairs will take you up to the modest restaurant. While bearing in mind that at Bua Khao the emphasis is on the food, not the aesthetics, we sat at a small table while the waiter showed us the menus.
We opted for a Tom Ka Gai soup (32LE) and Vegetable Spring Rolls (20LE) from the appetisers. The soup, consisting of chicken, galangal shoots and coconut milk, was warm and tasty with a certain light creaminess from the coconut milk. The Spring Rolls, unfortunately, weren't as good as we remember them, tasting a little stale, while the accompanying sweet sauce was bland.
For the main courses, we tried the Crispy Chicken with Chili and Garlic (48LE) from the conveniently named "Something New You Must Try" section of the menu. Main courses aren't served with rice or noodles, so we opted for a Pad See-Ew Gai (40LE) which is basically fried soya rice noodles with chicken and vegetables. For the second main course we opted for Duck with Pineapple Sauce (75LE) and for the side an order of Jasmine Rice (18LE).
The Crispy Chicken was the best dish of thenight. Ordered mildly spicy, the chicken cubes were deep fried with a spicy, crispy layer that hits the sweet spot right between tender and crunchy. The Fried Soya Rice Noodles, although tasty, were a bit of a soggy mess. There was little chicken to be found, but still, together with the Crispy Chicken, we were both full and satisfied.
The Duck, however, was a whole other story. Floating in a pungent stew with veggies and pineapples, the duck was greasy, smelly and tasted like it hadn't been cleaned properly – so much so that we had to ask for it to be taken off the table. The Jasmine Rice was decent, but there's little that can salvage the duck experience.
It's sad, really; we remember Bua Khao with a nostalgic fondness but it seems quality control over there is failing, and has been for quite some time.