Burger Joint: Popular Burger Chain Now in Mohandiseen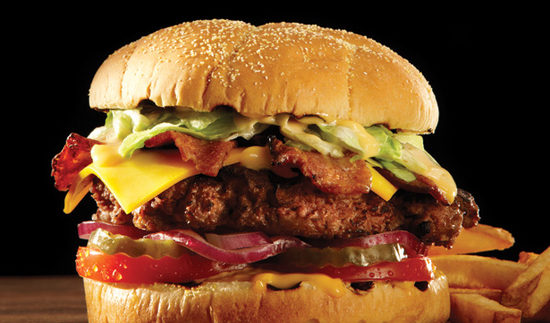 With somewhat of a cult following raising
it high above other burger vendors around Cairo, Maadi's branch of Burger Joint
was bound to gain counterparts in other parts of the city. One such counterpart
has emerged in Mohandiseen, sharing quarters with Makani in a quiet road that
veers off of Syria Street.
While Makani boasts decent outdoor and
indoor seating options, Burger Joint makes do with what is essentially a side
alley beside the building that the kitchen occupies. Calling it a terrace would be far too kind
and far too inaccurate. No more than
four metallic tables occupy the space, each surrounded by three matching
chairs. The branch was initially sold as a delivery-only version of the chain,
and continues to be so on the menu. Subsequently, the service seems a little
lax. It started off with an elbow landing in a dollop of coleslaw that was on
the table as we sat, and was rounded off by trying to clean the schmuck on the
inside rim of our canned drink.
Of the burger options, the Triple B (34.95LE
on its own, 46.95LE with fries and a drink) presents a thick 200 gram burger
with strips of beef bacon, cheese, lettuce, onion, mayonnaise and barbeque
sauce. The burger didn't tower as much as the low-angle shot of it on the menu
suggested, but it was considerably larger in diameter. The bread was
pleasantly tasteless, leaving the ingredients wedged inside to do all the
talking. Burger Joint's insistence that they never freeze their burgers rung
true as the patty did taste fresh. Unfortunately, it was a little overcooked
and was rather dry; a condition not helped by the scarcity of the promised
barbeque sauce and the complete lack of mayonnaise. On a brighter note, the
onions and lettuce tasted noticeably fresh and added a little life to the meat.
The Mushroom Joint (32.50LE/44.50LE) suffered similarly, but the mushrooms
helped the dry meat slide down.
The fries were completely unobjectionable;
crisp but quite bland and low on salt. Burger Joint also offers two hot dog
options and their version of chicken shawerma. Also available are salads of the
potato, coleslaw and mixed green varieties (12LE). We tried the mixed green
salad and had no complaints. Everything tasted fresh and clean, and the
lettuce, cherry tomatoes, sweet corn and lettuce made for good respite between
mouthfuls of the thick, dry burger.
Stopping for a quick bite here will afford
you a satisfactory meal – but no more. At almost 50LE for a combo, something
just doesn't add up. Given time though, maybe the kitchen will justify the
lofty prices.