Burger Joint: Standard Burgers with a Twist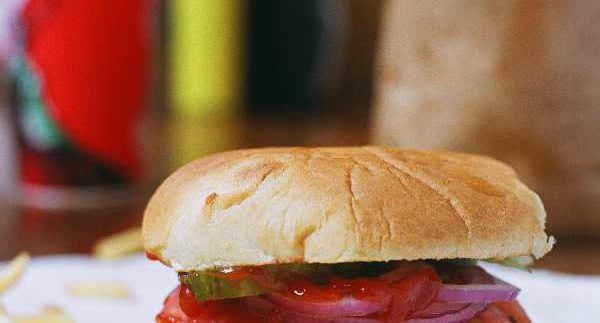 Burgers are
often an easy, quick meal but more often than not, they are lacking in quality.
Let's face it; whether it's McDonalds or another fast-food chain, the burgers
are usually so slathered in mayonnaise and ketchup that the taste of the supposedly
'pure' beef patty is nowhere to be found.
Burger Joint
may not be the most fantastic burger in town, but it definitely gets the job done
if you're craving a big, juicy hamburger. With branches in Heliopolis, Maadi,
and Mohandiseen, it's a grab-and-go kind of joint. Their little burger stands
and picnic tables provide a happy-go-lucky dining area for chowing down; that
is, if the sun's not too scorching. Burger Joint delivers to nearly every
neighbourhood in Cairo; so delivery is always an option too.
While Burger
Joint sells sandwiches ranging from hot dogs to chicken wraps, the burgers are
obviously their thing. Sold in 200gram and 300gram portions, various toppings
and flavours provide unique choices to top off your standard burger.
The regular
200gm cheeseburger (17.50LE) comes with your traditional lettuce, onions,
pickles, mayonnaise and ketchup; but all toppings come on the side for you to
assemble yourself. If something a little heartier is your thing for the same
price, the mushroom joints burger comes piled high with grilled mushrooms,
cheese and onions. The patties are juicy and substantial; just as a burger
should be. If the bun is almost as important as the burger itself, it may be slightly
disappointing; it's your typical pre packaged burger bun.
If you're not
too hungry, Burger Joint offers a unique option for a teeny baby burger
weighing in at 75grams… cute for 8LE. While Burger Joint's French fries are
nothing out of the ordinary, you get a hefty amount for only 6.50LE; a
traditional side to accompany your not-so-traditional burger.
Burger
Joint's Maadi location is perfect for a spontaneous, no-frills meal with
friends. Near Maadi Grand Mall, its stand is situated on a side street with a
few little picnic tables outside. The stand is open 24/7 and a perfect spot for
a late-night burger. Stroll up to the window, order your burger, and the
freshness might surprise you.