Burger Kitchen: Cairo's Premium Burger On The Go
23 Saudi Co. Bldgs., ElNozha St.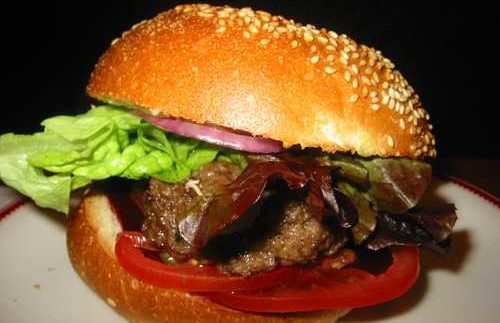 Encountering a well-crafted burger full of fresh ingredients
is a rare pleasure in Cairo.
Thanks to Burger Kitchen, however, we now know where to enjoy a juicy burger
without even leaving home. Though there is no dining-in option, the Burger
Kitchen has locations all over the city that deliver to all of Cairo's corners.
The takeaway eatery offers twelve scrumptious burgers
for every appetite and taste preference. They make a great classic burger,
called TBK original (17LE), which lets you appreciate the quality of the
burger, the softness of the bun and the freshness of the fix-ins.
If you're looking for something exotic, try the teriyaki
treat (22LE), a cheeseburger lovingly spread with Teriyaki sauce. The taste of
the teriyaki sauce is not overpowering and complements the burger's savoury
taste. The smoked BBQ burger (20LE) is similar: a cheeseburger with sweet,
almost tangy BBQ sauce spread on its bun.
A personal favourite is the mushroom n' jalapeño burger
(26LE), an explosion of taste sensation that is topped with chopped mushrooms
with generous jalapeño slices. The burger was packed full of a fat beef patty,
jalapenos and mushrooms; so thick that we could hardly bite the width of it. Topped
with a sweet chilli sauce, the burger strikes the right balance of crunch and
flavour.
Regardless of which burger you order, you can always count
on a juicy beef patty in a fresh bun. Raw tomatoes, onions and lettuce are
delivered in separate plastic containers so that the burger lover can build a burger
as he or she desires. The beef patties are nicely grilled to perfection, never
hard and always juicy. The meat tastes delicious and is obviously of good quality.
By ordering a combo, you'll get fries and a can of
soda for only six or seven pounds more. Opt for the potato wedges with your
combo; they're thick and wholesome with their skins still on.