Café Blanc: Popular Lebanese Restaurant Impresses at Cairo Festival City
Inside Cairo Festival City Mall
After its smashing success on the North coast, Café Blanc wasted no time in opening in Cairo and, not unlike its Sahel branch, the restaurant-cafe takes up an outdoor seating area at Cairo Festival City mall that provides a pleasant an inviting dining experience.
The decor of the venue uses bright vivid colours and comfy, chic seating options make it perfect for a laid back afternoon lunch. The indoor area is even louder, with it's trademark sky blue colour dominating a space that includes some attractive arched ceilings.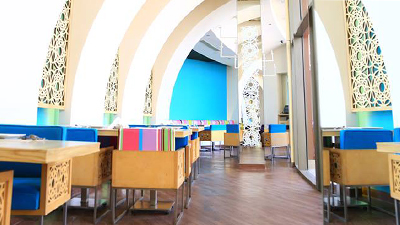 We took some time to go through the extensive menu, which included a range of traditional Lebanese dishes with modern twists, from which we chose the Raheb Salad (20LE) and some Tabbouleh (25LE) to start. From the Hot Mezza section, we opted for the Makanek in Pomegranate Molasses Sauce (40LE), Chicken Liver (35LE), Ras Asfour (38LE) and Cheese Rolls (30LE). Since the manakeesh are made right before our eyes in a live cooking station, we had to give them a try so we ordered the Akkawi Chili Man'oushe (35LE). For the mains we had the Kofta Platter (70LE) and Fattet Shawarma (55LE).
Shortly our salad arrived accompanied by a basket of steaming warm bread. The Tabouleh was light and zesty while the Raheb Salad was even more impressive with mashed grilled eggplants, diced tomatoes, peppers and onions, marinated with lemon and olive oil.
The hit appetisers quickly followed; the Makanek and Chicken Liver were both smothered in flavoursome, sweet molasses sauce that truly rang in our tastebuds. The Ras Asfour, small thin slices of beef in gravy sauce, came in a rather small portion, but was nonetheless cooked and seasoned well. However, it was the cheese rolls that stole the show, coming piping hot and filled generously.
The friendly waiter then brought in the rest of our dishes promptly. The Kofta platter featured three skewers of Lamb kofta grilled to perfection with a side of delicious wedges and tehina dip. The Man'oushe was authentically Lebanes and stuffed generously with salty Akkawi cheese; needless to say it vanished in a couple of minutes. The Fattah, unfortunately, didn't fare as well; it was lukewarm, the yoghurt seemed diluted and runny, while there was a strange lack of rice.
From the diverse desserts menu, we opted for Jabal Lebnen (38LE) and the trio pudding (30LE) – the latter of which was recommended by the waiter. Jabal Lebnen is a traditional Lebanese dessert featuring a simple but vibrant combination of flavours; Halawa, pistachios and delicious Mastic Ice cream. The trio pudding was light and sweet, consisting of three servings of rice pudding, muhallabieh and meghleh; a cinnamon and spice-infused pudding.
While many restaurants in the capital claim to serve truly authentic Lebanese dishes, only few actually do and Café Blanc has proved to be among them. The service was impeccable and the friendly waiters made sure to attend to our every need. All in all, we had a rather enjoyable experience despite the fact that some dishes were considered to be over-priced compared to the portions served.