Café Riche: Historically Rich, Real Cappuccino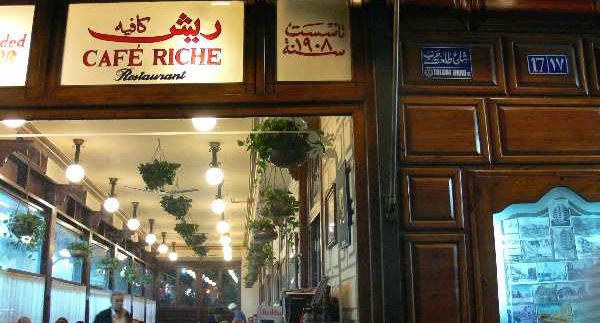 One thing we love
about Cairo is the fact that you will never run out of exciting places to
stumble upon or discover. Café Riche is the kind of Downtown coffee place that
you can walk by every day and notice that everyone inside always looks happy,
no matter what time of day it is.
Built in 1908,
Café Riche boasts a casual atmosphere laden with nostalgia and deeply entrenched
with Egyptian historical significance. Long-time patrons have said that back in
its bustling beginning, the café was quite the happening place for
intellectuals and artists alike; mulling over endless cups of coffee as they
discussed life's philosophies and politics. Rumour also has it that in 1952,
Café Riche was where Abdel Nasser's regime planned their coup that would soon
overthrow King Farouk's rule.
With history in
tow, the café itself is a historical landmark among many in the area, located
between Tahrir Square and Talaat Harb Square on Talaat Harb Street. Once you
scurry off the busy street and slide through its humble entrance, you're
quickly greeted by friendly staff dressed in traditional garb. Enjoy the café's
eclectic mix of patrons engaging in different activities like reading books, holding
meetings, or catching up with friends.
In the narrow
main corridor, local artwork lines the walls while the charming table
arrangements are composed of the ever-common tiny wooden chairs, checked red and
white tablecloths, and as a plus, high quality cloth napkins. Simple, glossy
flower vases grace the centre top, complete with one single, fresh flower;
tying in a cosy, personal touch. While an adjacent room is just next door, its
green fluorescent lighting gives off a strange feel.
They offer a full-scale
menu including a variety of espressos, coffees and fresh juices. While the
lemon juice (10LE) wasn't anything out of the ordinary, the cappuccino (12LE)
was satisfying with a surprisingly sufficient amount of foam. The mint tea
(8LE) came as a sweet arrangement of your own kettle, providing enough water
for a few cups. If mint is your thing, you should be pleased; as the mint
literally filled the kettle with freshness and a powerful punch of flavour.
Beers are also offered, which is rare for a café, with both Stella and Heineken
available for 13LE.
Salads, including
your traditional Greek, run around 7LE. Chicken platters including shish tawook
and similar dishes are offered.
From its historical
and convenient location to the tasty, decently priced drinks, Café Riche is
definitely the place to go for a relaxing drink or two with friends, or an
afternoon spent reading that book you've been dying to finish.