Cairo Kitchen: New Branch Opens in Maadi
Corner of Road 213, 231, Degla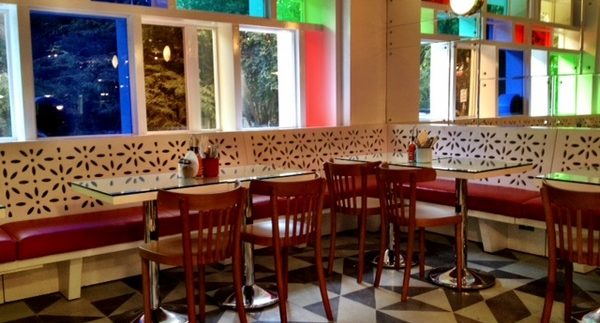 Maadi residents were thrilled when Cairo Kitchen decided to open a branch in their area. No longer exclusive to Zamalek, the restaurant takes over a two-floor space right next to Fino Bakery in Degla.
This branch is easily the better of the two. To begin, it is significantly more spacious. Located in a calm, green, sectionof the suburb, the lower level has outdoor seating and its lower floor is designated to being a sort of deli; an extensive fridge carries the food, while facing it is a bar with stools for those looking to grab a quick bite to eat.
The menu is the same as its Zamalek counterpart, but this one also offers fresh produce to be picked up and prepared at home. Corn on the cob (25LE), herbs, lettuce, cherry tomatoes (5LE) and brussel sprouts (5LE) are just some of the options that can be found laid out in front of the ordering area.
Artichokes in white sauce (36LE) were on the menu at the time of our visit, which we matched with half a chicken from the rotisserie (38LE) and a small salad (15LE) made up of aubergine fatta, beetroot and tehina with carrot and coriander dips. The baladi chic trays to the side caught our attention with their bright colours and authentic, yet edgy designs.
Taking our food upstairs to sit at a standard table, patrons will find cutlery, salt, pepper and hot sauce waiting for them. Drinks are also available on the upper floor in case you miss grabbing one downstairs.
The serving of aubergine fatta on our plate tasted very good, however the lack of crunchy bread we were given was a slight disappointment; the beetroot was chucky and flavoursome with onions that added an extra crunch. The carrot tehina was a little on the sweet side, but the coriander dip was in perfect balance.
The artichokes with the rice (14LE) were very tasty, however they were slightly undercooked for this type of dish. Their crunchy, fresher, quality would have fared better in a salad, but the meal was enjoyable nonetheless. The rotisserie chicken on the other hand was absolutely delicious. Cooked thoroughly, without being dry, the meat was smooth and perfectly seasoned.
Their karkadeh (7.50LE) was as good as it's always been, and they serve a range of teas and coffee as well. For dessert, we grabbed a small container of vermicelli pudding (9.50LE) and although it tasted wonderful, its consistency could have been a bit firmer. We also snagged a piece of corn bread (9.50LE) that we found to be enjoyable, though a bit dense.
Locally made apple, plum and date jams, chilli sauce, halawa spread and chocolate spread (15LE each) are available, as are packets of gluten free pancake mix and chocolate brownie mix (70LE), as well as different kinds of granola. Although we liked the local products, and the products in general, we found ourselves wondering why none of the tags were written in Arabic. If Cairo Kitchen is championing Egyptian cuisine, then why not promote the use of the language – the same applies to the dishes downstairs.
Regardless, Cairo Kitchen is the perfect place to take your kids, especially if they're fussy eaters, because it's easy to personalise dishes. Chicken breast served with white rice topped with a simple sauce sounds like a pretty kid-friendly meal, wouldn't you say?