Cairo Kitchen: The Ramadan Edition
118, 26th July Street, Entrance on Aziz Osman Street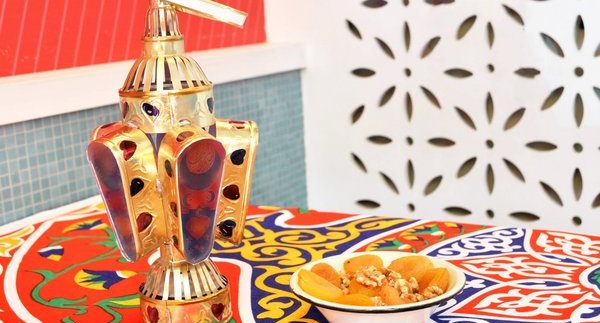 Ramadan is in full swing and we're seeing a lot of our
favourite spots swiftly adapting to the holy month by offering exclusive fetar
menus sure to satisfy your pressing hunger. With rumbling stomachs in tow we
made our way over to Zamalek's Cairo Kitchen to check out what their special
menu had to offer.
The balady-chic restaurant offers a set menu (110LE) depending on
the day. Check out their blog for a full list of their daily dishes. Visiting
on the third day of Ramadan, our fetar consisted of lentil soup, a mixed salad
plate, a choice of either well-being koshary, okra with beef or fireek with
chicken liver, as well as the daily serving of sambousak, dolma (rice-stuffed
vegetables) and kobeiba.
Arriving just as the sun finally set, the place was already
bustling with hungry Cairenes. We were quickly seated, where our soup and starters
arriving promptly after. The lentil soup was light but it lacked a bit of
flavour and needed salt and pepper, as well as some cumin. The
salad plate was a bit of a disappointment seeing as so much was missing, such
as the beetroot, green beans and spinach tehina, which were promised on the
menu. The green salad wasn't very fresh with cucumbers that were a bit soggy,
but the labna was refreshing and the couscous with khalta (almonds and raisins)
was flavourful. The spicy potatoes were also enjoyable though a little heavy on
the garlic.
The side dish that is served daily had pepper and aubergine
dolma, where the former was perfectly moist and tasty but the latter was a bit
tough to chew. The cheese sambousak finger was crunchy and soft in all the
right places, while the spinach sambousak triangle was equally enjoyable with a
well-seasoned filling. The kobeiba was especially good; it had a superb
crunch to its outer layer as well as a lovely hint of cinnamon.
The staff were most attentive and very efficient; constantly
moving around from table to table, they made sure nothing was left to desire.
Bringing us karkadeh before our main course was served, the juice was
absolutely delicious with a satisfying tang and a perfectly subtle hint of sweetness.
The well-being koshary was well cooked but we found
it to be lacking in punch and needed to add a considerable amount of da'a, the
traditional garlic, lemon and vinegar dressing. The okra came with a generous
piece of meat and was served with white rice. With a slight hint of lemon, the
dish was satisfying and the meat tender, with a melt in your mouth quality.
Towards the end of the meal, milk with dates was passed
around to whoever craved the sugar and there was also a dessert counter with
konafa, basbousa, meshmesheya and vermicelli pudding. The sweets were pretty basic, indifferent to most you'd find in Cairo, except for the vermicelli, which definitely got our vote.
The atmosphere at Cairo Kitchen for fetar is very warm and
welcoming. The service is top notch and the food was delivered to tables in
ideal time. So if you're the type that likes to eat a lot for fetar and feel
like going somewhere different, then Cairo Kitchen should be on your list of
stops.