Cairo's Best Restaurants: A Look Back at 2012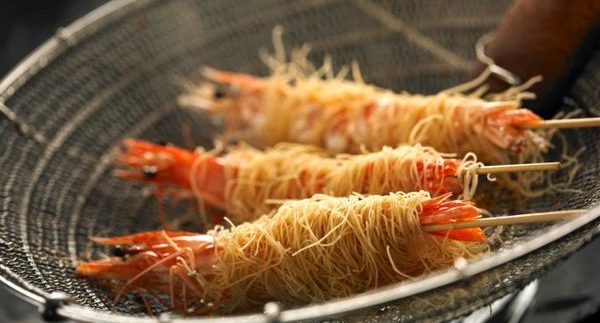 As we close
in on the end of a tumultuous year in this always unpredictable city of ours,
Cairo 360 presents another obviously insightful, and inevitably controversial, list
of the past year's best restaurants. Whether you, the reader, agree with these
well thought out, democratically selected choices or not, one cannot deny their
popularity and success in 2012.
In the past twelve months, we've seen newcomers shine, the mighty fall and the old guards do what they do best. All in all, though, it's been a prosperous and interesting year for dining in Cairo.
Formerly
known as Spice, the Four Seasons Nile Plaza has a gem of a restaurant in 8.
Serving up some of the best Chinese cuisine in Cairo, the restaurant's use of
tangibly fresh ingredients is only one element of its outstanding dining
experience. Stunning views of the Nile, elaborate yet unpretentious decor and a
smiley, attentive and kind staff are just as impressive.
Often
overshadowed by its fellow Garden City hotels, the Semiramis InterContinetal has
produced some of the best cuisine in Cairo over the years. Much of that can be
attributed to Thai restaurant, Birdcage. Offering a unique combination of
ingredients and flavours in its dishes, Birdcage is definitely one for the
foodies of the city who enjoy the occasional palate-shock.
Many will
scoff at Cairo Kitchen's perceived balady-chic gimmick, but the opening of a
second branch in Maadi in 2012 is irrefutable evidence of its immense success
and popularity. Serving up homely Egyptian food, Cairo Kitchen should be
commended for championing local cuisine and offering out-of-town visitors a sample
Egypt's native foods without the worry of food-poisoning. Well done.
Despite receiving
the occasional bad press for serving foie gras, La Maison Blanche is still one
of the best examples of high-end dining in the city. Although located in a mall
– though some may argue that First Mall in Giza is not just any mall – the restaurant's
French menu is unlike anything to be found in the city and is well worth the
holes it'll burn in your pocket.
Had Cairo
not been so vulnerable to the winter cold, Little Swiss might not have made it
to the list. But then that might be doing the Maadi restaurant a disservice, as
it serves up Cairo's best fondue. Perfect for a date, a group outing with
friends or a nice family dinner, Little Swiss does a good job of bringing a
little piece of mountainous Switzerland to sandy Cairo.
After
expanding into a bigger area this year, many of Pizza Mia's loyal patrons
lamented the loss of the small, intimate atmosphere. Despite that, however, the
Zamalek restaurant hasn't lost its touch when it comes to churning out the best
pizzas in Cairo. Still good for an intimate get together, a constant flow of temporary
specials has kept Pizza Mia fresh.
More French
cuisine on this list comes via Salt. Only a few months old, the restaurant is
located in the expanding Sun City Mall of Heliopolis and is nothing short of superb.
Salt's simple menu, which offers only
six appetisers, six entrees and six desserts, is infused with brilliantly
inventive, and subsequently delicious, touches, courtesy of the worldly Chef
Bruno Contreras.
As the Four
Seasons' flagship restaurant across the globe, much has always been expected of
Seasons. We're pleased to tell you that it emphatically delivers on any and all
expectations. This year, the restaurant introduced daily, rotating buffets
that, amongst other things, offer seafood, Italian and French cuisine. Buffets
come with a somewhat bad rep for living off of quantity, not quality, but
Seasons maintains outstanding quality throughout.
Lebanese
restaurants have become a dime a dozen in Cairo, but few can match Taboula.
The Garden City restaurant continues to be a favourite among locals, tourists
and expats alike. On paper, Taboula's grills and mezzas may seem unspectacular,
even basic, but top to bottom, the menu delivers a taste experience like no
other. The restaurant is almost always busy, but they deliver – which is
amazing.
Speaking of
Lebanese, Tamara Lebanese Bistro opened in Citystars in 2012 to the mania of
Ramadan but hasn't slowed down since. This is another restaurant that shouldn't
be judged for being located in a mall, but for its authentic and inventive
menu. Restaurants in Cairo will too often root themselves in a speciality only
to take the basics on a tangent of reinvention – an inevitable road to failure.
Tamara hasn't fallen to this curse and looks to have a bright future.
As another
restaurant that has been unfairly targeted for being gimmick-based, Zooba sits
pretty on the always busy 26th of July Street in Zamalek, offering
locals and passersby a clean, fresh taste of Egyptian street food. Gimmick or
not, Zooba's falafels, foul and koshary are outstanding and like Cairo Kitchen,
it should be applauded for cultivating and enriching local cuisine in its
simplest forms.
For more
restaurant reviews on Cairo 360, click here.