Car Café Club: Novelty Restaurant on the Giza Corniche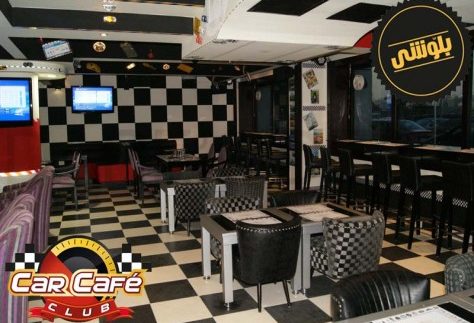 Located on the Giza Corniche, with a retro pop-art exterior, Car Café Club is hard to miss. As soon as we pushed through the garage style doors, we were overwhelmed by the racetrack inspired décor.
Licence plates, car horns, headlights and other car memorabilia lined the dimly lit, black and white chequered walls of this venue. Flat screen TVs show motor racing; showing their bold dedication to automobiles. We noticed they had a fully equipped DJ booth, which added a somewhat youthful vibe to this new dining spot.
We had an interesting choice of seating; rounded leather booths and low, high or standard dining tables and chairs. We opted for the latter, and were presented with an extensive Arabic menu. Upon requesting an English menu we were told it would not be printed for another month (despite the restaurant being open for three months already).
For drinks, we quickly decided on a lemon mint smoothie (20.95LE) and a vanilla iced tea (12.95LE). The lemon mint smoothie was fairly standard and more like a slushy rather than a freshly blended citrus drink. The iced tea was equally as, if not more, disappointing than the smoothie. 'Vanilla flavoured water' would have been a more appropriate name for this blend since there was no ice or tea in sight.
After deciphering the food menu, we noticed how the dishes were aptly named after cars. For a starter we went for a classy model, choosing the Lexus chicken fingers (31.95LE) with honey mustard dressing. Served on a bed of red onions and carrots, this starter was nothing out of the ordinary, but tasty nonetheless. The portion was considerable, and was definitely fit for sharing.
Choosing a main was difficult; the car themed titles of the dishes don't give much away, so reading the lengthy descriptions was mandatory. There was also a wide range of meats on offer: chicken, beef, veal, lamb and seafood. We went for the Hyundai chicken grill (65.95LE) and the Fiat tuna salad (31.95LE).
The Hyundai chicken came with a choice of two out of five sides and several sauces. It was considerably sized, served with a deliciously creamy white sauce, cheesy dauphinoise potatoes and plain white rice. The Fiat tuna salad was simple but flavourful, light, fresh and generously sized. It was well presented in a deep glass bowl, lined with slices of (slightly soggy) garlic bread.
Finding no dessert section in the menu, we were told to venture over to the dessert counter where we could choose from a selection of ornate cakes and pastries. We chose a cute little date tart to conclude our feast. However, we were soon informed that the entire dessert counter was just for show! The restaurant gets the dessert delivered to them, and the delivery had failed to arrive on this day.
They instead offered us a slice of chocolate cheesecake (26.95LE) and, feeling optimistic, we agreed to the change – a move we later regretted. The cheesecake, deceivingly attractive, was warm and sour – not the sweet treat we expected.
Car Café Club definitely has personality, although we were left unsure as to whether it is unpopular or just unknown. This place would appeal to a younger generation for its cool design, light bites and pop music, however we wouldn't recommend it for memorable cuisine.