Carino's: Cairo Italian Stand-In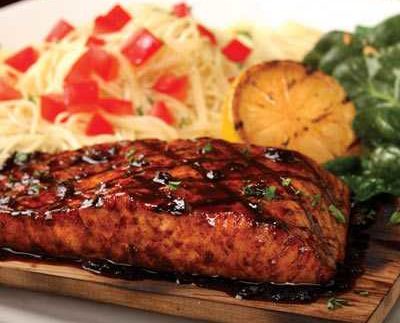 A family-friendly Italian restaurant chain in Cairo,
Carino's has branches in Zamalek and Heliopolis,
as well as in Ain Sokhna and Marina. Carino's offers salads, pastas, steaks and
loosely Italian-inspired entrées with a few twists on tradition.
The Heliopolis
branch next to Alain Le Notre on El
Merghany Street offers indoor and outdoor seating.
Although the inside is bright and clean, there is not much personality in the decor;
so eat outside if the weather permits it. All that you will miss from the indoors are a few tables near the
bathroom on the first floor and a wait staff distracted by delivery orders upstairs. The
picnic tables in the outdoor area are far more appealing in comparison, even
though the area doesn't have much of a view.
From the appetiser list, we recommend a Carino's speciality; Italian
nachos (36LE). A bed of fried pasta
chips (similar to rice crackers) is topped with grilled chicken strips, diced
tomatoes, sliced black olives, canned jalapenos, mozzarella cheese and Alfredo
sauce. The creation may be a bit bland for true nacho lovers; but if you're looking
for something creamy, cheesy, crunchy and greasy, this is a good way to start
off your meal.
The small Caesar salad (15LE) is a slightly healthier starter with clean,
crisp lettuce, plenty of croutons, quality cheese and a tangy, flavourful
dressing. The salad can also be had as an entrée (40LE) with the addition of
chicken, tomatoes and olives.
If you're set on steak at Carino's, we recommend the Tuscan rib eye (75LE)
with mushroom sauce. With a choice of either pasta or potatoes and green beans
on the side, this is a hearty plate of food. The rib eye is tender and far
tastier than the fillet (65LE), which is tough, chewy and requires an additional
charge for sauce. For a more Italian-inspired dish, you can't go wrong with
spaghetti and meatballs (38LE). The meatballs are flavourful and served with a
large bowl of well-cooked pasta.
The food at Carino's is not particularly spectacular nor is it
overwhelmingly Italian. While you can certainly get a better steak or more
refined bowl of pasta for these prices at La
Trattoria, Carino's offers massive portions of food in a family-friendly
environment.