Carnivore: African Barbecue Extravaganza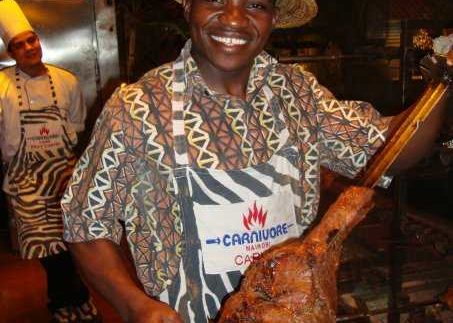 If Cairo's usual dining
options have you experiencing a bit of ennui, you may want to make your way to
the Trianon restaurant boat in Giza , where
Carnivore restaurant, advertised as 'Africa 's
greatest eating experience', should help. Founded in Kenya in the 1980s, this barbecue
specializes in traditionally grilled and roasted meats and is famous for its
local game and giant portions.
The
restaurant is a good-natured haven of beige and brown patterns, loud animal
prints, caricature wooden statues, and a stunning Nile
view, where the boat's glass wall lets diners glimpse passing fishing boats.
Our
waiter waltzed up with a winning smile and briefed us on the evening's
schedule, whereupon we learned that here, a traditional three course meal is
drawn out to several. We were first proffered bowls of creamy chicken soup,
along with loaves of freshly baked bread. Next, a two-tiered lazy susan
arrived; the lower deck was laden with salads of tahina, houmous, lebna, greens
and rice, with sauces for the main courses balanced on top.
Meals
are served on a set menu, all-you-can-eat basis. This means that when the
waiter arrives bearing a giant skewer (we later discovered this is the
traditional Kenyan maasi sword) of meat, wields it over your earthenware plate
and proceeds to carve generous portions, you would do well to pace yourself.
With each new meat that arrived, we were advised which sauce would best
accompany it: cream-based garlic sauce for the flavourful tandoori, fruit salsa
for the turkey and ostrich, mint sauce for lamb and barbecue sauce for the beef.
After
several rounds of healthy servings, we were lagging. The meat itself was tasty
overall, each distinct in flavour with a pleasing hint of barbecue char. The
turkey was slightly dry, however and some cuts of beef were either bland or
overly-fatty. The ostrich – a first for this reviewer – had a powerful, pungent
meaty flavour, rich and complimented well by the sweet salsa.
To
say Carnivore offers an exorbitant eating experience is an understatement; the
waiters continued to arrive with more racks of lamb, cuts of beef and a platter
of sizzling sausages. We finally gave in and waved the white flag, literally: each
table is equipped with a small white flag, which is used to signal to waiters that
you desire more food, are taking a break, or have reached your limit. Feeling a
little sheepish about declaring defeat – the waiters' disappointed gazes had an
effect – we asked about dessert in spite of our over-burdened palates. These
arrived in three variations: ice cream, rich chocolate cake, and crème brulé. We'd
already eaten piles of barbecue, so why stop now?
The
restaurant does not accept reservations, so you'll have to stop by and see for
yourself the next time you're craving a heartier-than-hearty meal. The set menu
costs 150LE per person, before tax and service; a table for two should tally to
around 380LE.