Casper & Gambini's: All in Great Taste
CityStars, Omar Ibn El Khattab St.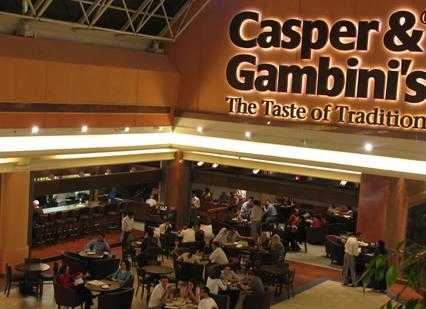 If you find yourself in the metropolis of Cairo's CityStars and in search of some healthy sustenance, you might try Casper & Gambini's, located on the Second Retail Level.

Steadily expanding in the Middle East since 1996, the Lebanese-owned franchise continues to carry out its mission, bringing high quality coffee and healthy food to its customers. In spite of its CityStars setting, the restaurant maintains a Euro-chic feel, with oversized leather chairs clustered around dark wood tables while couches accommodate those meeting for coffee and dessert.

The iced tea alone is reason to stop by. Served in martini shakers, the white pear is cool and refreshing, embellished with a slice of fresh fruit. Other iced tea concoctions serve up subtle mixes of lemon, spicy cinnamon and black tea, while peach and mint flavors usually win praise.

Meals are presented on oversized white chinaware, servings are ample and the waiting staff fairly efficient. For those who have searched far and wide for a delicious salad, look no further. Feast on the Chevre Raspberry Salad, a bed of endives topped with toasted baguette, herbed goat cheese and raspberry vinaigrette. The roasted chicken over spinach greens is a heartier choice, and heartier still is the Santa Fe Salad, a south-western inspired salad of cubed chicken, beef bacon and guacamole, tossed with spring greens and garnished with toasted croutons. Main courses include New York steak, pan seared salmon, and the somewhat daunting but delicious Prime Beef Burger is grilled to taste and complimented with a generous portion of potato wedges. Desserts to try are the chocolate fondant and the flaky apple tart, which go well with their signature espresso.

C&G is one of the only options to get healthy takeaway, although its slightly on the pricey end, making home cooking a much more affordable choice, so keep this as a treat. Salads and pastas are delicious, although some paninis can come out a little soggy, and the service can lag from time to time. The real disappointment can come when you wish to dine on the outside terrace for a lovely setting and fresh air, and the waiter refuses to serve you the full restaurant menu. Unless you get lucky, some menu items are unavailable in this section.

A recently revamped interior and menu design have replaced the former rustic photograph motif with kitchen appliance-inspired graphics, indicating that Casper & Gambini is keeping up with contemporary appeal. The new look is accompanied with slightly higher prices and a new catch phrase—the former banner, A Taste of Tradition now reads All in Good Tase. Expect to pay 75LE to 100LE on a balanced meal, and walk away satisfied. C&G is easily one of the only places for delicious and healthy delivery; we just can't get over having to eat in a mall.