Cellardoor Bistro: Local Favourite, International Gourmet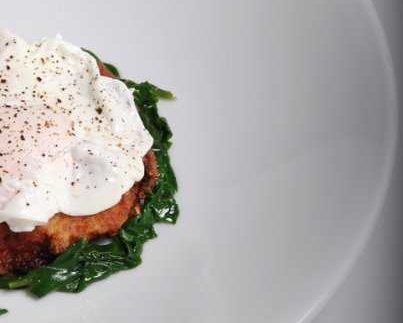 Once known as Le Petit Swiss Chalet, Cellardoor Bistro has been a favourite Maadi establishment for many years thanks to the eclectic menu of international gourmet cuisine cooked up by owner and head chef, San Francisco Culinary School graduate Ayman Samir.

Located around the corner from the Thai restaurant Bua Khao, the bistro has acquired a healthy clientele base over the years for its consistency in delivering quality cuisine in an intimate atmosphere.

When we arrived for a 3pm lunch, we weren't bothered by the fact that we were the only people there throughout our meal. The quiet background music kept us entertained, while the attentive yet slightly harried waiter kept refilling our complimentary bread basket with toast drenched in shameless amounts of butter and garlic. The basket was served alongside a Tunisian pepper dip with tomatoes and caramelised onions.

For starters, the Mushroom Kiev—stuffed, breaded and deep fried with a garlic parsley dressing—could have been a main course meal of its own given the copious amounts of bread we had just consumed. The Apple Salad with its combination of cherry tomatoes, mushrooms, arugula and apple slices with a pesto dressing is perfect for those inclined to mixing the sweet with the salty.

One dish that never fails to excite this reviewer, no matter how often it is sampled, is the Moroccan style Casbah Chicken. The chicken breast cooked in cinnamon, cumin, brown sugar and orange juice sits perfectly on a bed of raisin risotto, and always delights the taste buds.

For seafood lovers the Seared Norwegian Salmon is cooked just long enough to maintain that fresh, straight out of the sea taste. But the Filletio Tagliato won hands down as the best dish at our table- the stripped beef fillet grilled with rosemary and thyme on wilted spinach and creamy mashed potatoes had us all sneaking bites off our friend's plate.

By dessert time, most of us were too stuffed to do more than groan at the menu, but the bravest ordered the Zabaglione, an Italian-style warm wine custard that some of us found heavy on the wine, while others lapped it up happily.

Cellardoor Bistro excels at consistency: portions are always generous, the quality is always good and price wise expect to pay between 30LE for starters and desserts to around 70LE for a main dish. In an attempt to attract more clientele (or maybe inject more of an atmosphere) the bistro is branching out a little by hosting an Open Mic night every month. For more information, check out the bistro's page on Facebook.