Charwood's: Sheikh Zayed Finally Has a Real Steakhouse
Arkan Mall, In Front of Zayed 2000 Village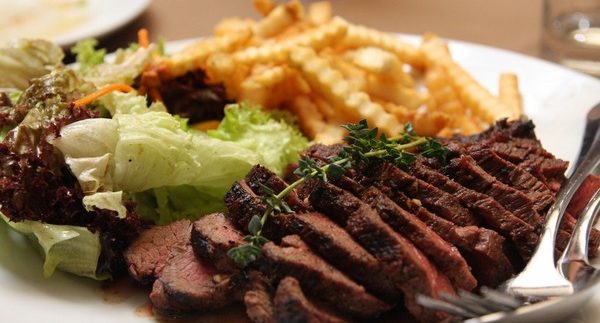 Charwood's has long been a household name for steak lovers in Cairo. Originally a
sole restaurant on Gamaat El Dowal Street in Mohandiseen, Charwood's is finally
spreading its wings across the city.
The new branch in the recently launched Arkan Mall brings Charwood's signature
steaks to Cairo's suburban community. Maintaining its down to earth
sophistication and limited menu of specialties, Charwood's opening widens the
spectrum of available options for Sheikh Zayed residents.
Hany – Charwood's headwaiter for at least the past five years – can also
be found in the Sheikh Zayed outlet, adding to the familiarity of the
atmosphere. The menu is pretty much the same as in Mohandiseen, with some minor
additions such as grilled chicken and chicken brochette, both priced at 75LE. They
also serve an Australian rib-eye steak for 190LE. A minor difference in prices
is hardly felt, with the occasional 5LE-10LE extra on select dishes.
The spacious interior is whitewashed in the traditional Charwood's style;
however we did miss the decorative assortment of bottles and copper knick-knacks
available in the Mohandiseen branch. We were told that they are soon to arrive,
as the restaurant is slowly but surely settling into the new space. They do
have an outdoor seating area which could be a delight for diners seeking some
fresh air, although you may want to be prepared with some insect repellent.
Charwood's Sheikh Zayed is unique in that it has a fully functional bar with
a bartender to sport. Filled with a selection of local and imported wines as
well as a selection of liquor, this is one of the few places in the area that
serves alcohol.
As is customary, we were served a green salad and fresh bread upon being
seated. Wanting to try out their new dishes, we settled on a grilled
half-chicken served with a baked potato and grilled vegetables (75LE). Accustomed to
only the best from this household name, we were not impressed. We ended up
struggling with a puny piece of chicken that did not retain much flavour.
On the other hand, the chateaubriand, served with mashed potatoes and
vegetables, was delicious and came in a generous portion – making for a
lip-smacking dinner (115LE/half portion, 215 LE/double portion). A bottle of
Cape Bay white wine (185LE) didn't quite hold up though, luckily we were
offered a cold beer on the house to compensate.
Although our experience was overall pleasant, they have yet to meet the high
standards they've set for themselves in Mohandiseen.