Featured image via Chicken-Fil A
After its renowned success in three areas around Cairo, Chicken Fil-A finally decided to bestow its delicious food upon Sixth of October. Chicken Fil-A is known for its big and flavourful fried and grilled chicken sandwiches.
We decided to give their newest branch a visit. Once you arrive at Family Mall, you'll easily spot Chicken Fil-A as it's taken its location outside. Park, take a seat, and wait for someone to come along to take your order.
Spoilt for choice, we decided to get the Mexican Fil-A (66 EGP), which comes as fried chicken stuffed with cheese and topped with spicy mayo sauce, coloured peppers, cheese sauce, and Doritos, and we added the Combo option (21 EGP) to the sandwich. Our second choice was the Big Bang (46 EGP), which is fried chicken topped with cheese, spicy sauce, French fries, jalapenos, and fried onion rings. And with that messy bun, we decided to add wedges (19 EGP), and a soft drink (11 EGP). We liked how the waiter was proactive in his suggestions. For example, he asked if we'd like to have the spicy sauce and jalapenos served next to the sandwich.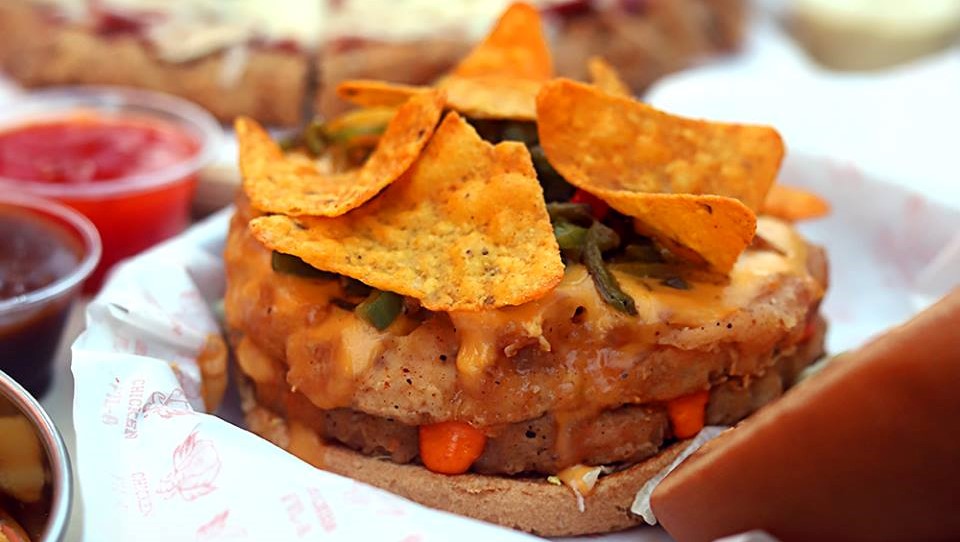 The food arrived in a timely fashion and it was time to tuck in. We preferred the Mexican Fil-A, thanks to the crunchy taste of the Doritos with the delicious taste of the chicken burger. We especially enjoyed the balance between the sauces, the toppings, and the patty itself.
The Big Bang wasn't bad at all, the mix of flavours was spot-on, and definitely worthy of the guilty pleasure title thanks to all the fried bits in the sandwich. It's pretty big, pretty messy, but definitely delish. Their wedges are an excellent addition to the sandwich; thick and not too oily.
Despite us being filled to the brim, we decided to somehow make room for dessert. Most of their options are fried and topped with chocolate or caramel sauce, so we decided to order it to go and eat it a little bit later. We ordered their Batata Fingers (30 EGP), sweet potato fries topped with cinnamon, chocolate sauce, and Oreo. You can also get it with biscuits, or caramel sauce. It was very hearty, but really delicious.
We fully enjoyed our time at Chicken Fil-A, but the food is definitely not on the healthy side, so make sure you balance it out with some exercise.
Translated by: Sherif Khairy