Chicken & Ribs: The Comfort Food King
Westown Hub, Beverly Hills

If we were to ever write up a list containing the names of underrated restaurants, then the comfort food master, Chicken & Ribs, would surely top that list. We've been regular customers of this restaurant's Westown HUB branch, and we were so glad to hear that it was getting a brand new branch in Korba.
Aside from their new location, Chicken & Ribs have largely kept a lot of the elements we loved most about their old and original branch. For starters, Chicken & Ribs still shares one store with its sister company, Butcher's Burger (however, this time round each of the restaurants managed to get its own floor). Also, much like its older counterpart, this branch has a cozy and cheerful ambiance, as a direct result of its yellow couches and chairs, the grey brick walls, and the subtle and warm touches of wood. The yellow VW bus was also able to make it to the new branch, alongside the black and yellow posters hanging on the walls.
Now, let's get to the important part: the food. For our appetiser, we opted for the BBQ Cheese Fries (69 LE). This magical appetiser came in the form of a hot skillet filled with well-prepared French fries, that were topped with chunks of tender pulled brisket, and were drizzled with smooth cheese and smoky BBQ sauce. It was also sprinkled with slices of jalapeño and fresh red onions, adding both sweetness and a pleasant spicy kick. This sweet and rich appetiser was simply a flavour bomb.
As for the mains, we opted for the Pulled Brisket Sandwich with a side of fries and coleslaw (74 LE); the Boneless Chicken Basket with Waffles (74 LE); and Mac & Cheese (44 LE).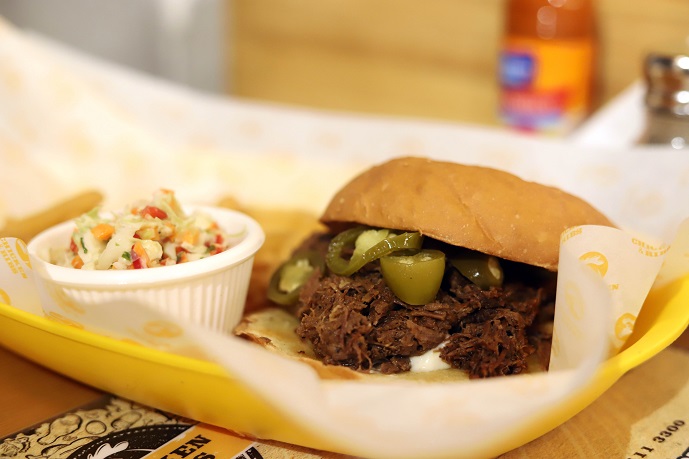 Starting with the Brisket Sandwich, the beef was pretty much similar to the one used in the appetiser: it was extremely tender, with a flawless texture. The beef was served inside a soft and freshly made burger bun, and it was topped with pickled cucumber and jalapeño. The sandwich, however, could have benefited from the addition of some sort of sauce, in order to give it that extra kick of flavor. As for the Mac & Cheese, it was rich, creamy, well-seasoned, and the pasta was perfectly cooked.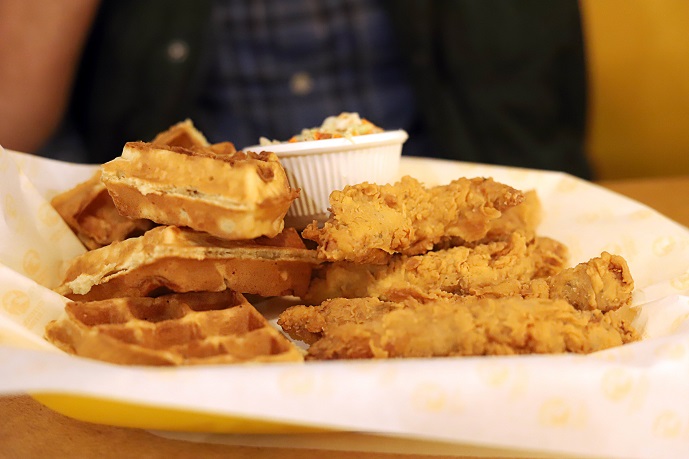 Meanwhile, the Boneless Chicken Waffle Basket (aka the hassle free version of chicken and waffles) was flawless. Indeed, the chicken tenders were perfectly spiced, super crunchy, juicy, and far from oily, while the waffles were thick and soft waffles. As per the sides, the pico de gallo-infused coleslaw was quite tangy, and the extra maple syrup that we ordered (17 LE) genuinely complemented this dish.
As much as we wanted an apple pie and churros, there was seriously no room for dessert. We did, however, order a Virgin Sangria (44 LE) to help us digest the delicious crime we had just committed. This drink is a good choice for those who enjoy very sweet and artificial/syrup-like flavours, and the portion size serves up to 3 persons.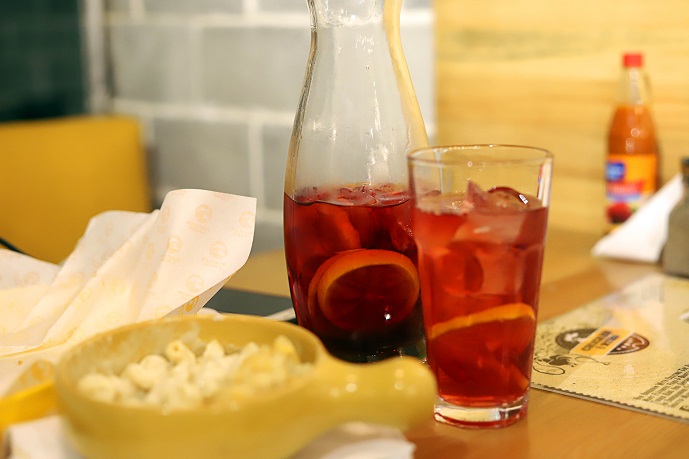 To sum it all up, Chicken & Ribs is the go-to place, if one is looking for a stomach hug. We did not just absolutely love the food, we also loved the service, and the extremely reasonable prices.