Chipstix: Fried Potato Snacks at Downtown Katameya Mall, New Cairo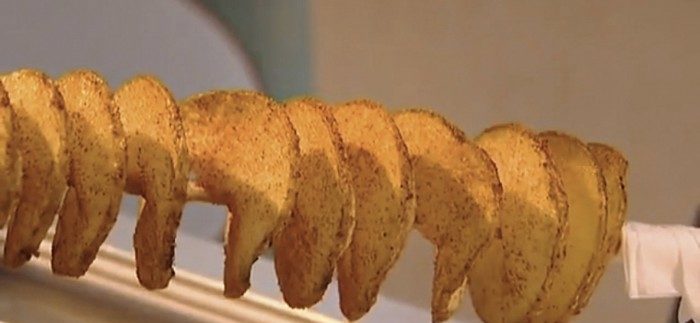 Fast food restaurants in Cairo are aplenty, drawing in crowds of hungry customers. As a world-wide franchise, Chipstix have found success from offering various, fried fast food snacks; including their signature Chipstix skewers (10LE) – deep fried potato chips, spiralled and skewered on a stick.
In addition to their branch at Zamalek's El Gezirah Club, one of their bright orange kiosks has recently joined the ranks at New Cairo's Downtown Katameya Mall, offering shoppers carb-heavy goodies while they're on the go. Set amidst the abundance of casual eateries, with no seating, takeaway is encouraged; eating while walking around a shopping mall struck as a little impractical, whilst sloppy packaging makes it difficult to carry home, should you wish to do so.
The member of staff serving us was unfortunately quite surly and unenthusiastic, taking his time to prepare our order. Notably, the staff were kitted out with disposable gloves, though neither the grills nor the deep fat fryers looked particularly clean.
According to their paper menus, the seeds for the potatoes used in their Chipstix skewers and fries are imported from Holland, negate the oil-absorption, therefore making them less greasy than usual potatoes after frying. Also on their menu is corn on the cob (12LE), fried chicken (14LE) or beef (11LE) corn dogs, and sweet options of baked chocolate (12LE) or waffle stix (11LE). Drinks are limited to sodas (3.50LE) and water (3LE).
The Chipstix skewers come in sixteen unusual savoury flavours, including seafood, Portuguese peri-peri and Worcester sauce. We opted for a more regular salt and pepper flavour (10LE), and watched as the staff liberally sprinkled the powder mix over our potato skewer. Fried with the skin left on, the potato was well-cooked to a golden brown with a strong salt and pepper taste. Promises aside – given the cooking method – a predictable amount of oil could still be tasted.
We also ordered a portion of crispy, thin-cut Chipstix fries (8LE) and delicious, fresh corn on the cob (12LE) doused in butter. Due to the unavailability of baked chocolate, we went for a waffle stix; prepared with a thick batter, the lashing of Nutella created a tasty, but unremarkable, sweet treat.
If you're really hungry and need a quick, cheap snack, Chipstix offers an interesting, but unexceptional, twist on usual fried potato products.