Churrasco: All-You-Can-Eat 'Brazilian Style' at New Cairo's Downtown Mall
All you can eat is a concept that works like a charm in Egypt because, let's face it; we're a nation that loves to eat. But quite often, striking a balance between quantity and quality is not an equation that's easy to balance – a balance we were keen to test at Downtown Mall-located Brazilian restaurant, Churrasco (Spanish for grilled meat).
From the yellow and blue walls, to the sky-like painted ceiling and the huge abstract collage poster boasting elements of the Brazilian culture like Samba dancing, Churrasco's interior is certainly colourful and cheerful. But what gives the restaurant its energy and appeal is the sight of the waiters walking around with tempting skewers of grilled meats, ready to serve you at your table.
It's a little confusing for newcomers, but Churrasco's menu is split up into three sections (A, B and C); A includes items like grilled quail, sausages and chicken wings; B has the grilled chicken items, including chicken legs, while C is where you'll fund beef and lamb. Aside from the all-you-can-eat offer for 200LE, you can also opt to go for a second option: for 140LE, you can have two items from section A, one from B and one from C.
We started our meal with green and red beans from the salad bar which were well-seasoned, but the absence of many of the more exotic items – including prawns with avocado and spicy chicken with corn — left us a little disappointed and wishing there were more Brazilian flavours to dig into.
The sides on the other hand, served in typical metal buffet plates, were enjoyable, with well-seasoned, smooth, and creamy mashed potatoes and perfectly light and flavourful rice standing out.
Typically, in Brazilian-style grill restaurants, an assortment of meats from chicken, lamb and beef are cooked in skewers over coal or natural wood, chopped into pieces and served hot in your plate; an authentically Brazilian technique to ensure you get all the fresh and juicy flavours.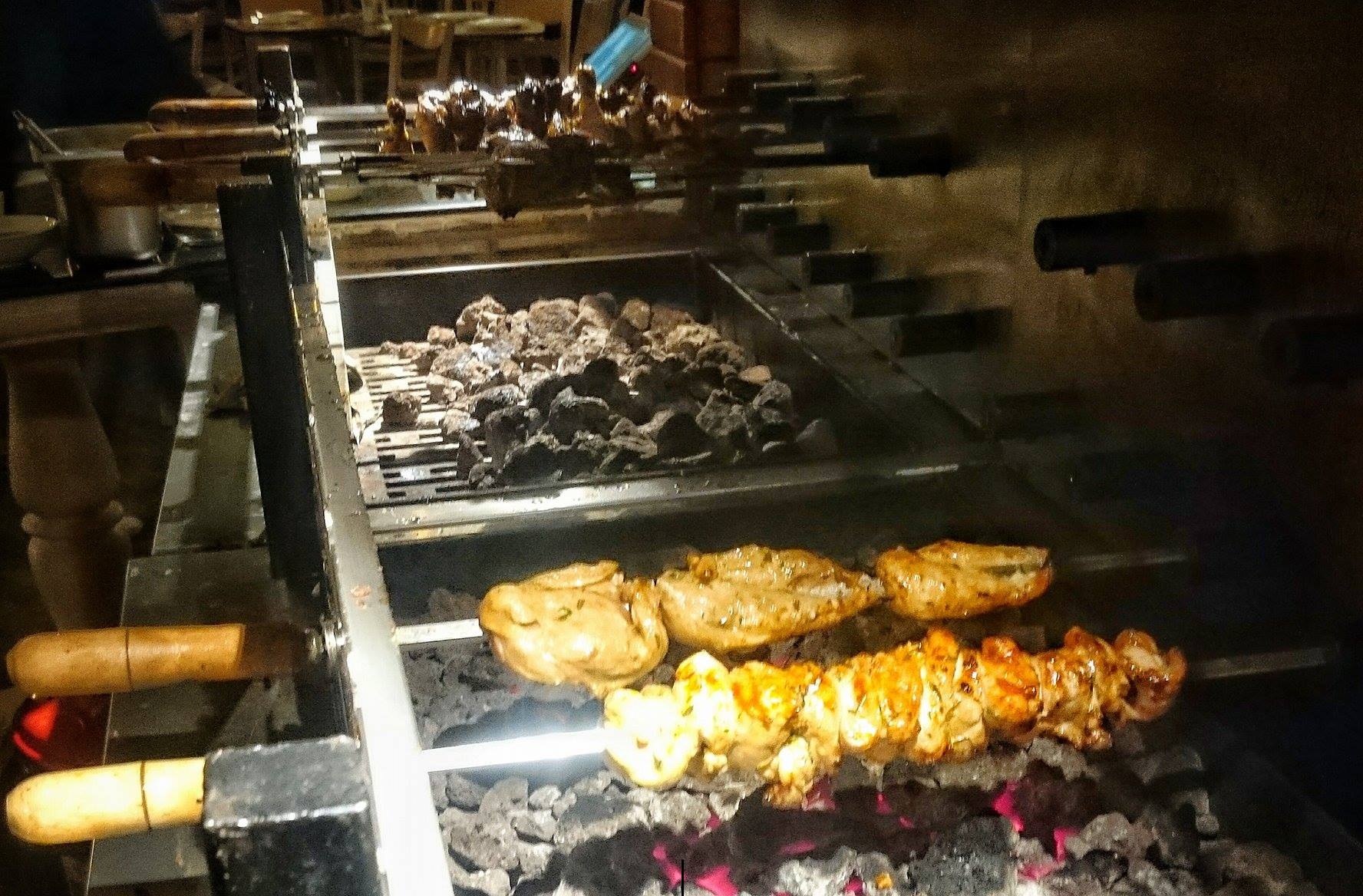 Our grilled mains started with the Codorniz (quail marinated with honey and orange); the quail was tasty with a sweet flavour from the honey, but we barely felt the presence of the orange.
Though the Asas De Frango (spice chicken wings), boasted some decent flavours, the chicken pieces were undercooked. A spot-on texture, perfectly spiced sausage with a chili kick, however, made the Linguica-Brazilian (BBQ Sausage), our favourite dish for the night.
With some of the pieces overcooked while others needed more time on the grill, the Frango (boneless chicken) was unevenly grilled, while the chicken legs, which were served right after, were tasty and well-marinated.
Hoping for bolder flavours from the beef and lamb, the Cordeiro (boneless lamb leg with lemon and mint) was a nice surprise, with an exquisite zesty flavour from the lemon and a tender texture, while the Vitela (veal cubes with garlic marinade) were rather chewy and lacked any kind of depth in flavour.
With the absence of variety in desserts, we were left with no other choice but to try Abacaxi-Caramelised (grilled cinnamon pineapple) which had a strong cinnamon flavour only on the outside, while the pineapple's rough interior was kept intact, leaving us wishing it was removed before being served.
All in all, we left Churrasco with mixed feelings; on the one hand some of the grills were poorly executed, but on the other hand, some grills including the BBQ sausage fared much better. The presence of another Brazilian restaurant to challenge Casa de Carne in Maadi is great, but it's Churrasco inconsistency that could be its downfall.