Cielo Lindo: Cairo's Mexican Catch-All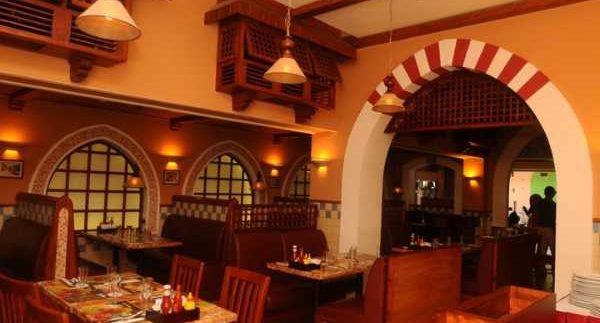 Many of Cairo's restaurants are
guilty of trying to do too much: we've all experienced the rambling,
novel-length menus covering international cuisine from Chinese to American.
This approach mostly results in a wide selection of below-average offerings;
but in some special instances, the quality of the food allows us to overlook
the overachieving menu.
Cielo Lindo is a cosy, family-friendly restaurant
tucked away on the corner of Maadi Nerco's Road 233. As its name suggests, the
menu features Mexican cuisine, though it also includes a wide range of other
cuisine options. Cielo Lindo is one
restaurant where everyone will find something that they
like.
Menu
options include a wide selection of soups and salads, with creative options
such as celery soup with cream and hazelnuts and a watercress salad with
chicken and walnuts. Mexican offerings range from classic fajitas to
quesadillas and the luna de miel (honeymoon) pizza. Not a fan of Mexican?
Choose from a very extensive selection of chicken, beef, and seafood options as
well as pastas, pizzas and oriental appetisers.
Cielo Lindo offers an extensive kids'
menu featuring Winnie the Pooh chicken (20LE) and Ben Ten pasta (20LE). There
are also numerous drink offerings from cocktails to milkshakes, and desserts
including ice cream, cheesecake and the Oreo crush, a deadly combination of Oreos,
caramel, nuts and ice cream (20LE).
For main
dishes, the Mexican selections at Cielo Lindo
take the cake. We tried the Combo fajita, a sizzling platter of chicken, beef
and juicy shrimp served with vegetables, rice, salad, sour cream, salsa and
lemon. At 75LE, this plate was pricey but worth it– no skimping on the meat or
fish here, and the serving was large enough to split with a friend.
The
Atlantic salmon (77LE) is also a good choice, although the dish is a tad busy with
its side servings of calamari, cream and mustard sauce, rice and vegetables.
Dinner for two with drinks at Cielo Lindo
could set you back as little as 150LE if you order pizza or pasta, or 300LE if
you choose fish or meat dishes.
If you love
a place where you can munch on English-style fish and chips while your dining
companion attacks a steaming plate of Mexican fajitas, Cielo
Lindo might just be your new favourite restaurant.