Condetti: Graceful Restaurant in Maadi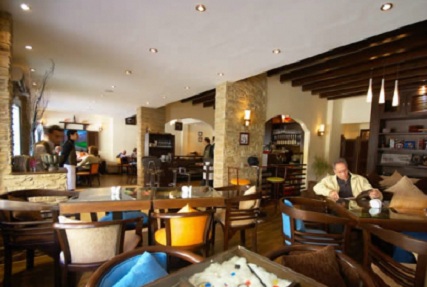 There's a saying in Cairo: 'All Maadi residents stay in
their homes, while everyone else is lost in their streets'. We have to agree.
Just look at Maadi's numbered streets and many roundabouts – each with a load
of exits leading to more arbitrarily numbered streets. Road 12 is next to road
78, Road 6 leads to Road 82 and don't even get us started on Road 100 and Road
200.
Naturally, we got lost finding Condetti. We eventually found
it located on Road 82, which is off of Road 7 – are you still with us? To make
things easier, Condetti is opposite Maadi Pearl Hotel.
The restaurant is rather elegant, both inside and out. A
terrace area includes four tables with parasols for outdoor dining.
Alternatively, you can seek refuge in the air-conditioned interior which, in
the grand scheme of things, is quite small. It's a size, however, that works
with the restaurant's warmth and intimacy. The decor is based around browns and
beiges and the glass-top tables reveal decorative flowers and kitchen accessories
inside the table. A small stand offers a selection of books, magazines and maps of
Maadi – something we really could have used. One wall even features media clippings
praising the restaurant. Several muted TV screens are dotted around the area,
with separate music taking over the speakers. The overall sum of the parts,
though, makes Condetti an ideal spot for a date. At the same time, however, it's
suitable for pre-work coffee or a business dinner.
The menu is dominated by classic Italian dishes; pizza and
pasta in a huge range of styles are on offer for between 30LE and 45LE. A
selection of starters is priced between 20LE and 50LE, while mains of meat,
chicken and fish will set you back between 60LE and 120LE. Condetti even offers
a special collection of diet-friendly dishes between 60LE and 75LE and a range
of sandwiches for 30LE to 40LE.
We started with a Caesar salad with twist; instead of chicken
we had it with prawns (44LE). The parmesan-heavy, prawn-fresh salad had a
strange metallic taste to it that had us a little worried. Nevertheless, it did
its job in 'appetising' us, and we had no trepidation about going for the steak
filet (76LE), with blue cheese and Rockford sauces – also available in pepper, Dijon
and mushroom. The dish comes with French fries and sautéed vegetables. Ordered
well-done, the steak came out in less than ten minutes and it was cooked
perfectly to our instructions; the meat didn't have that bitterness that so
many grills in Cairo taint their meats with. The same can be said for the
sauces, while the vegetables were inoffensive and the fries, light.
Many have waxed lyrical bout Condetti's pizza, but the
Padrino Pizza (46LE) – with chicken – that we ordered was very pedestrian; the
flavours were nothing more than average. In saying that, however, the portion
is pleasingly large.
To round off the meal, we ordered the piña colada (24LE) –
minus the rum of course – only to receive what was essentially a vanilla
milkshake, with no hint of pineapple or coconut. Believing that we simply received
the wrong order, we were tartly informed that this was in fact Condetti's piña
colada. We were offered more pineapple juice in the drink, but struggled to communicate
the fundamental differences between a piña colada and the concoction we had in front
of us.
Despite this, he service was excellent and the attention to
detail in the dishes makes Condetti worthy of getting lost in Maadi.