Condetti: The Pasta Filling Station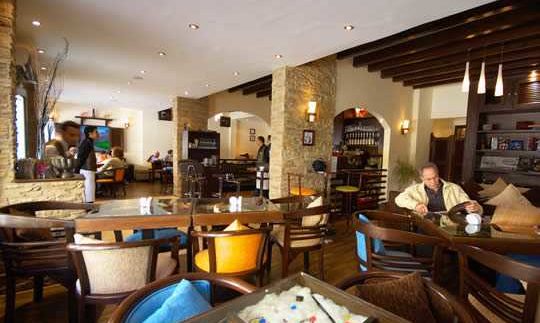 Condetti has taken a tip from a few sources: the dim lit booths and swinging doors give this restaurant a saloon feel while the glass top tables come with nouveau art installations beneath the surface displaying dried pasta arrangements.

If you wish for a dining experience with a touch of manufactured grandeur, you might have wandered into the right place. Once you see the casual yet polished shine of the place, it will come as no great surprise that many of the core staff advertise extensive experience in the luxury hotel business around the city.

Condetti is as no-nonsense as it is over the top. Chicken breast, steak fillet, and curries are all accompanied by piles of potato wedges, mashed potatoes, gravy—or vegetables if you're in a healthier mood. The Fuiti de Mare pasta could be a meal for three in itself. I confess I've never even gotten to their desserts on my many visits, although their espresso is up to par. Cozy, if in a larger-than-life kind of way, this is no place for diners looking for some finesse with their meal.

The name of the game here is robust and Italian, emphasised by the cornucopia-like bread baskets. Before you start to consider the menu, you must choose between plain baguette, garlic bread, garlic bread with cheese, bread sticks, flat bread both plain and garnished with herbs, and something like mini pizza. Condetti sets a precedent in sheer quantity that few restaurants can live up to, so you had best bring your appetite.

Once you've established which pre-meal snack you will eat – and be careful to limit yourself or you simply won't have room for the large portions soon to arrive – you must choose how precisely you want your pasta prepared; the waiters always encourage al dente , although I have yet to taste anything but very very well cooked here. Another bewildering aspect: the pasta sometimes is whisked to your table in what seems like a matter of minutes after you placed your order, which makes one wonder just how fresh it really is.