Crave: Comfort Food and Cosy Atmosphere in Zamalek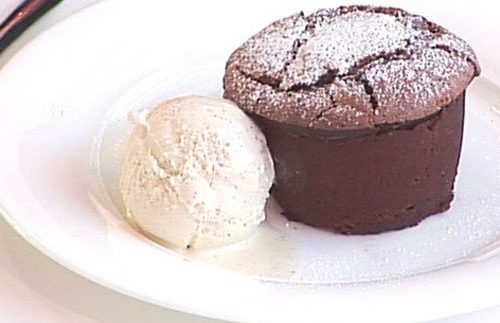 Zamalek's aptly-named international food restaurant, Crave, is famous for its chocolate fondant. This dessert will surely melt your heart – but let's start from the beginning.
This restaurant offers two areas, a smoking and a non-smoking one. There is also a small space with sofas found by the entrance. The décor is simple but clean, comfortable and even amusing; spoons and forks are hung as decoration, for some reason. We wanted to be placed in the non-smoking area, but unfortunately there was no room at the time, so we ended up in the smoking area, which was thankfully not too smoke-filled.
The atmosphere is generally quiet and relaxed; the staff are friendly and quick to respond to your calls. However, during our last visit, a major downfall was how long we waited for our meals to be brought to our table. Nonetheless, we were not in a hurry so we didn't complain.
There is a reasonable choice of starters, from crispy konafa shrimps to mozzarella sticks and arugula salads to mixed vegetables. The marinated grilled vegetables (24.95LE) are put forward as the 'healthy option', being low in calories. The starter is actually large enough for a small main course and is made up of sliced vegetables – broccoli, zucchini, coloured peppers, aubergine and onion – which were tasty and flavoured with adequate spices. The vegetables were perfectly cooked with the right consistency, being neither to crunchy nor too soft. However, the dish was a little on the oily side.
With pizzas, pastas and burgers, you know what to expect and will not likely be disappointed. The chicken MCM (51.95LE) from the main course options proved to be very satisfying; the chicken itself was nicely cooked and tender. On the other hand, the sauce was a bit too creamy and could have done with a bit of extra spiciness. Nonetheless, the flavours of the cheese and the onions complemented each other very well.
And the chocolate fondant (34.95LE)?T he rich chocolate dome is baked to perfection with a thick, gooey
chocolate centre that escapes it as your spoon delves in. It's served
with a very creamy scoop of vanilla ice cream and a dash of caramel
sauce. Keep in mind, however; that the richness might require sharing it
with someone else.
In short, if you're on the hunt for comfort food to be enjoyed in an easy atmosphere, it is really worth trying out Crave.