Crazy Witch: New Fast Food Joint in Sakanat El Maadi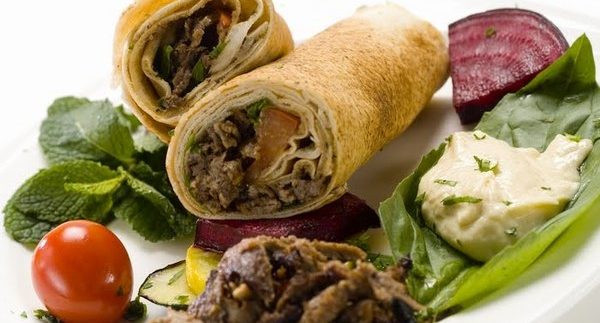 When you hear the
words 'block party,' you're more likely to think of Dave Chappelle than chicken
crispy sandwiches, which made the recent opening of Crazy Witch on Road Nine in
Maadi that much more peculiar and amusing. In between local foul and falafel hole-in-the-wall joints and the
neighbourhood butcher, the staff of Crazy Witch set up a massive sound system
and a set of party balloons to welcome themselves into the area. It was actually kind of fitting for the new
eatery that sports an electric-guitar-playing sandwich as its mascot.
The menu of Crazy
Witch is broken down into the basic categories of macaroni, pizza, side items,
chicken and meat. Any food item can be made into a combo meal with fries and a
can of soda for an additional 8LE. All sandwiches are available in two sizes,
medium and large and the prices are affordable across the board.
Crazy Witch
offers simple sandwiches such as Alexandrian liver (5LE for a medium, 9LE for a
large), as well as shawerma: the meat sandwiches cost 9LE for a medium and 13LE
for a large, while the chicken will set you back 8LE and 12LE respectively. The kitchen can also cook up burgers, either
plain (8LE for a medium), cheese (10LE), eggs (10LE), or mix of cheese and eggs
(12LE). Also try going for a double
cheeseburger for 16LE. Although the
burgers come on pretty good sesame buns, the patties themselves are the kind of
flattened burgers that you'd find at fast food chains like McDonald's.
The chicken crispy sandwich
(7LE for a medium) is decent, but would be a lot better with even a little more
seasoning. For something a little
juicier, try the chicken fajitas (10LE), which comes with fresh green bell
peppers, or the Shanghai chicken sandwich (15LE).
Crazy Witch sandwiches
suffer from the same problems as many other Egyptian fast food spots: too few
vegetables, too much bread, and no condiments other than mayonnaise. Sure, customers can ask for mustard or
ketchup on the side, but the sandwiches of chicken or beef slapped between two
pieces of processed bread are too dry, and leave a lot to be desired.
If you are looking for
something to share, or a heartier lunch, go for one of Crazy Witch's pizzas or
pastas. The basic margarita pizza costs
16LE, and for just 4 more LE you can add four cheeses, hot dog, mushrooms, or
sausage. Chicken, tuna, or pepperoni
pizzas will run you at least 25LE. The
pastas are even cheaper. Macaroni béchamel
costs only 6LE, and even the priciest options, the meat or chicken macaroni
dishes, are only 12LE.
For a faster,
on-the-go snack, order one of the hawawshi varieties (from 4LE to 15LE) or side
items. Fries (4LE), salads (2LE to 3.50LE)
and desserts like cream caramel (6.50LE) are also available.
The area of Road Nine south
of Sakanat El Maadi Metro station needed a quick and easy restaurant option
beyond the more upscale cafés, especially since Pizza Fun Time closed down
suddenly last month. As a result, Crazy
Witch is a nice addition to the food market; so long as customers do not expect
much more than the basics.