Cuba Cabana: Outdoor, Breezy Sohour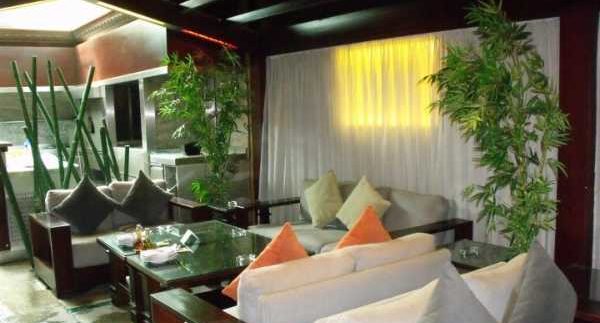 While you may think that this steaming hot Cairo weather provides no
reason to enjoy the outdoors, we've found a tranquil spot in Maadi that offers
a breezy atmosphere for an outdoor Sahour and a chilled out night.
At Maadi hotspot Cuba Cabana, the seating outside
is quite spacious, simply decorated with low-lit lanterns, and traditional Arabic
music playing at just the right level; it wasn't blaring and we could actually
hold a conversation. The relaxing escape, mimicking an oasis, will have you
forgetting about the Cairo
heat in no time. If it is a little toasty, there are plenty of outdoor fans to
help cool you off. Although reservations should be made, especially on
weekends; it wasn't crowded at the time of our visit.
Sohour is served starting around 9PM with a
set menu for 75LE. While we were a little hesitant at first to drop that much
for what we thought would be a measly plate of foul and Lebanese falafel; we
were pleasantly surprised when our feast of food arrived.
The wait staff greeted us with
pleasantries, starting us off with the small, yet complimentary appetiser of
chilled cucumber and carrot sticks with mint and fresh lemon juice settled into
the bottom, along with a plate of green olives, grape tomatoes and turnip
slices.
Included in the set menu are foul, eggs,
Lebanese falafel and hummus, as well as white cheese with tomatoes, sambousak,
and yoghurt with honey. The foul is prepared with your choice of four options
including with butter, olive oil, tehina, or Lebanese foul. With tehina, the
foul came evenly mashed and light, while the decadent Lebanese foul was loaded
with tomatoes, butter and chick peas gracing the top. Like the foul, eggs are
also served in different variations: omelette, fried and boiled. The fried egg
was relatively light, pairing nicely with the rest of the plate.
While the hummus caught us off guard with
its rather heavy, fresh taste of chickpeas, it was
still tasty. Lastly, a large amount of white, creamy cheese with fresh tomatoes
and Lebanese style falafel fared well , leaving us stuffed, satisfied, and
ready for a good night's sleep.