Cuba Cabana: The Lounge of Many Spaces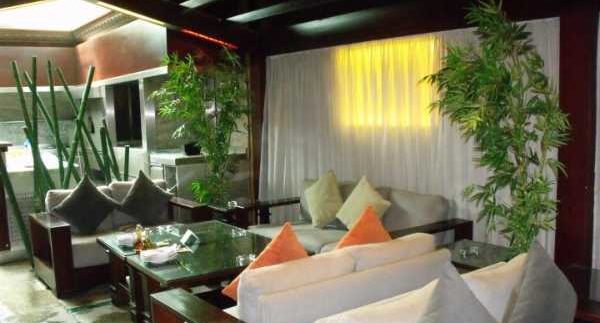 The Cuba Cabana
complex aims at creating an all-inclusive laid-back lounge and entertainment
experience. Part restaurant, part pool hall, part lounge café, this is a
convenient option for a casual Maadi afternoon or a relaxed night out.
The place has
done a nice job on the atmosphere: the entrance is an open courtyard, complete with
torch lighting and inviting orange and yellow armchairs.
In an elaborate architectural innovation, a bridge skirts the open-air dining
area for those headed straight inside, as a shallow pool lies beneath the
glass floor.
While the
interior has a touch of the extraordinary, the menu is standard but extensive,
with a few twists: it offers everything from texmex (nachos), to Italian– the
fresh caprese salad and pizzas are recommended. Middle Eastern cuisine options
include the standard mezza line-up: hummus and baba ghanoug are available, as
well as the decadent sampler platter of sambousak, onion rings and chicken
fingers. You can also order steak, shawerma, burgers and pizza as well as their
specialty refreshments of Italian sodas and in-season fresh juices.
While the
interior can feel a bit dark and cavernous, the restaurant has an undeniably
attractive and unique style with its plush burgundy couches, decorative hanging
ceiling lamps and unique vine and floral arrangements. Cuba
Cabana can be a nice place to watch a football match on one of the many flat-screen TVs
featured throughout the various sections.
The lounge
ultimately has four sections, including a back area called the Q-Club that is
separated from the rest of the venue by glass partitions, and holds both a snooker
and a pool table– undeniably one of our
favourite parts. For 40LE you can play to your heart's content, and order from
the main menu, although eating perched on the small high tables next to the
cues can get a little messy.
The usually
excellent shisha is served in the front courtyard area and in the indoor
Lebanese restaurant Tanoureen, which is decked out with couches and, of course,
plenty of flat-screen TVs for customers' entertainment. A bold mahogany bar is
located inside as a centrepiece for the darkened booth seating, with some
ultramodern Plexiglas and lighting details.
Whether all the
tables are full or you're one of the weeknight stragglers, relaxation remains
the name of the game. Service is helpful
and polite, and best of all, Cuba Cabana makes a compelling argument for some
midweek, lightweight activities.