Cucina: Brick Oven Loving
Inside JW Marriott Hotel Cairo,

noon - 5pm / 6pm - midnight -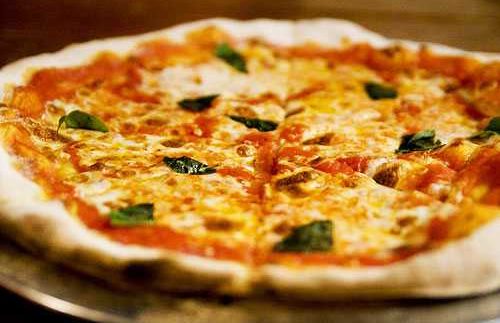 International
dining isn't just about sampling the food of another culture, it can be an
opportunity to lose yourself in the experience and feel as though you're far
away from home. This is the desired effect of Cucina, JW Marriott's Italian
kitchen on the outskirts of Heliopolis, Cairo.
Cucina is
designed to emulate an Italian sidewalk café. A central stone fountain with tiny cherubs spewing water is surrounded
by intimate candle lit tables. The dining
room's edge is decorated as edifices of Italian city apartments, complete with
flower boxes and open shutters. The whole effect is topped off with an arched
ceiling painted blue and dotted with stars. It's all very Italian, or Las
Vegas. Either way, it's an equal mix of
kitsch and cute, and probably would have felt a whole lot more authentic had it
not been for the large Samsung flat-screen showing Ice Age2.
We flipped
through the weighty menu, which awkwardly resembled a large clipboard. We
decided to start with the bresaola (42LE). The thin slices of cured beef were
presented with a drizzle of olive oil and balsamic dressing, shaved Parmesan
and a bed of rocket with a warm mushroom salad on top. The dish was a huge hit; the flavours came
together really well, while none of the individual components were lost.
Our main
dishes arrived in the form of pizza and
pasta, since deciding between the two had been quite difficult after reviewing
the menu. The diavolo pizza (60LE)
topped with beef salami, mushrooms and fresh chillies and cooked in Cucina's
brick oven was delicious. While they
didn't skimp on the cheese or sauce; neither ingredient dominated the pizza. The spaghetti ala carbonara (55LE) lacked the
egg taste of a true carbonara; but the sauce was thick and tasty and the pasta
was a perfect al-dente. Though there was
plenty of meat added, the flimsy diced beef was not nearly salty enough to
capture the mood of the dish.
We ended
the meal with a tiramisu (45LE) that disappointingly reminded us of hospital
food. The moist base of the dessert was
miniscule and not made of the usual lady fingers, while the texture of the mascarpone
centre was rather gelatinous.
We thought it best to leave immediately after our
meal as Cucina's house singer had been struggling to find his pitch at several
tables and was making his way towards our own.