Patio, Road 90, Fifth Settlement

In our long experience with reviewing food shops, shacks, restaurants, and even carts, we've come to develop a deep appreciation for those who still strive to deliver something unique and innovative.
While a lot of restaurants depend on creating a huge fan base, then letting go of themselves completely and start serving much lesser quality food to save on their running cost, there are still a respectful few who decide are determined to continue delivering quality food. Today we're talking about one of these restaurants: Daddy's Burger.
Daddy's Burger rose to fame through their innovative toppings, and generous portions of delicious melted cheese. It quickly became a top destination for burger lovers, and managed to open up a number of branches around Cairo.
Their menu is quite diverse and full of different options for meat and chicken lovers alike. You have a choice of three weights, 150 gm, 200 gm, and 250 gm. We opted for the mid-sized 200 gm patties, and selected the Yummy (58 EGP), Gladiator (73 EGP), and Milano (63 EGP). We didn't know this, but not all burgers are served with a melted cheese jar, but you can order it as an extra side for 39 EGP. Moreover, we were really disappointed to see that you need to order fries separately as a side (14 EGP), as well as a soda drink (12 EGP).
Food takes about 30 minutes in preparation, even on a busy day. We were dying to see the meal, and we started our feast with the Gladiator. The burger patty arrived topped with mushroom gravy, Swiss cheese, red cheddar cheese, and a unique arugula sauce plus fresh arugula, cucumbers, pickles, lettuce, beef bacon, BBQ sauce, and Daddy's special sauce. Trust us, no matter how much we tell you, it's impossible to imagine how sloppy, messy, and filled to the brim this burger is. But what about taste? Simply put, it was awesome. The arugula sauce was a risky but very rewarding addition, the patty was well cooked and well spiced, and all the other toppings worked perfectly with the juicy patty.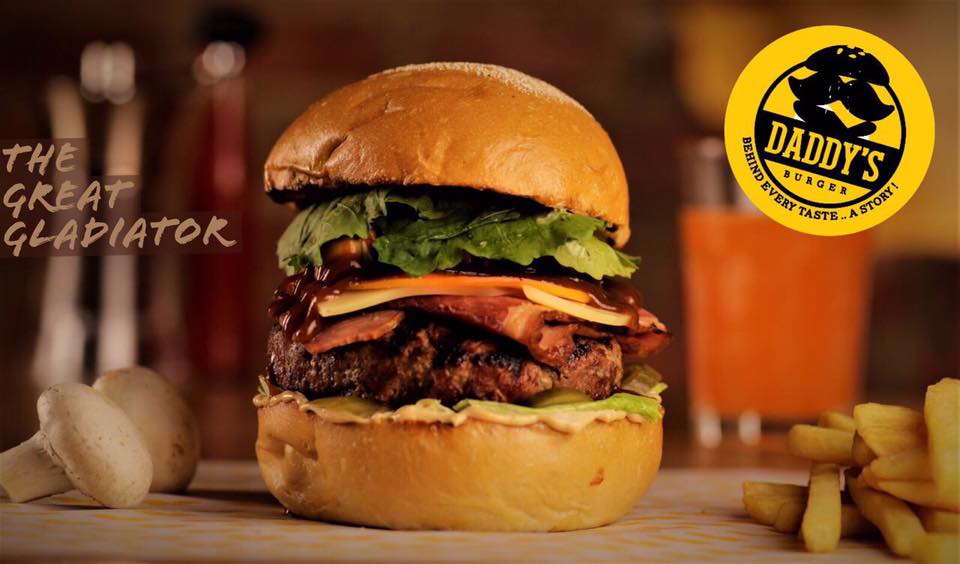 The Milano boasted the same juicy patty but was topped with salami slices, caramelised onions, lettuce, tomatoes, and a mix of arugula and basil sauce. The humongous mix proved especially delicious, despite our disappointment to find that they had forgotten to place mozzarella sticks in the mix of toppings, as promised by the menu.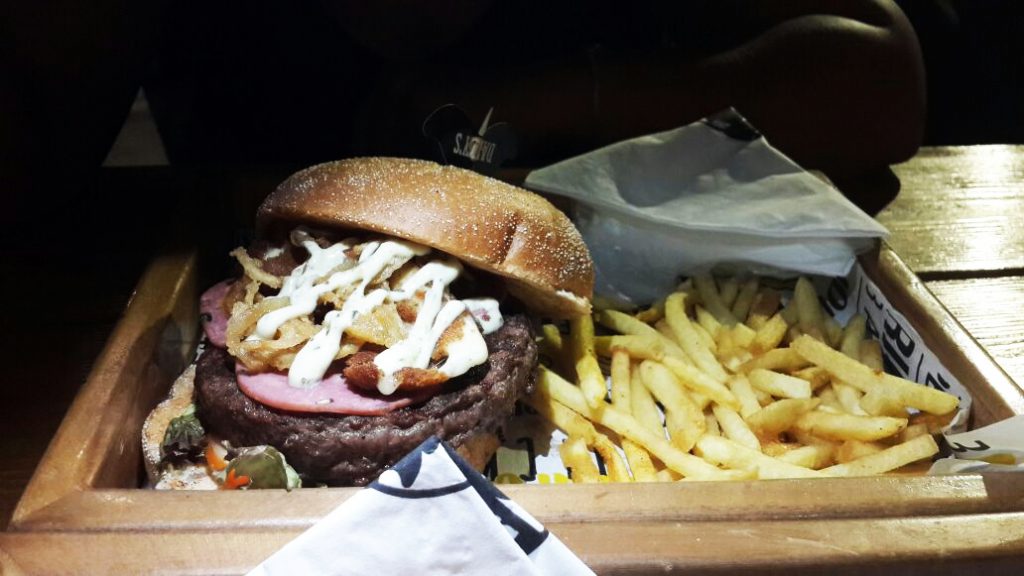 Our final burger was the Yummy, and this was a truly innovative burger. The mix of sweet and savory is not always appreciated, but this time around it was executed to perfection. The well-spiced burger patty is topped with arugula, caramelised onions, lettuce, pineapple slices, and blueberry jam. Somehow, they've managed to make this combination work wonders. Perhaps less adventurous taste buds would mind it, but we certainly didn't.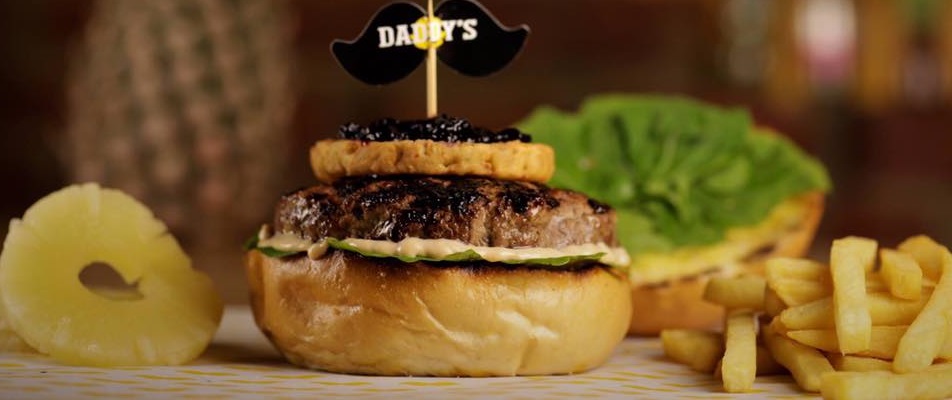 Side items were quite good. Regarding the fries, there was nothing really special to talk about, but the Melted Cheese Jar really stole the show. The texture and taste was absolutely perfect, and it is quite big; it can serve up to 5 persons.
We couldn't leave the restaurant without trying out one of their desserts. We opted for the Brownies Madness (47 EGP). Unlike what you may think, this is not just a brownie topped with ice cream. It is served in a jar, and it is a brownie topped with Oreo, Flutes, Nutella, and Vanilla ice cream, all in layers stuffed inside one jar, creating a rainbow of sweet flavours colliding in your taste buds for maximum delight. This is not a one-man job, share it with a few of your friends, unless, of course, you're a big foodie and believe you're up for the challenge.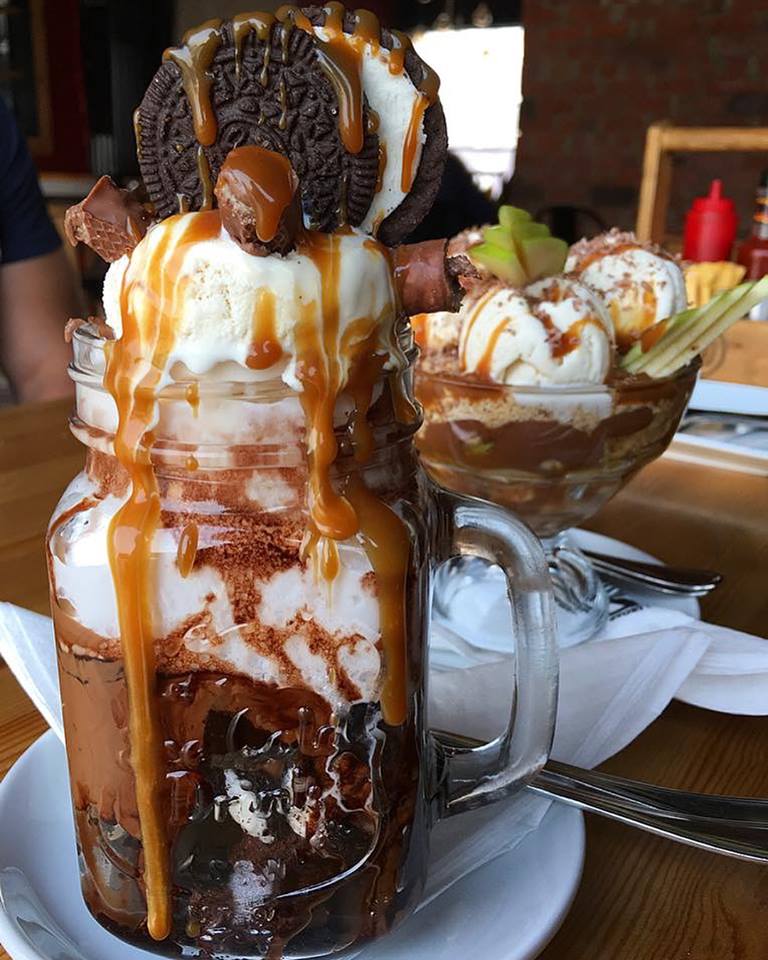 Daddy's Burger has proven that it's still a top-notch burger restaurant with a lot to offer in terms of classic burgers, innovative options, as well as desserts. The friendly service, the menu, the comfortable ambiance, and the generous portions makes this an overall excellent experience.
Translated by: Sherif Khairy