Dar Gdodnah: A Syrian Smorgasbord in Dokki
23 Mohy El Din Abu El Ezz Street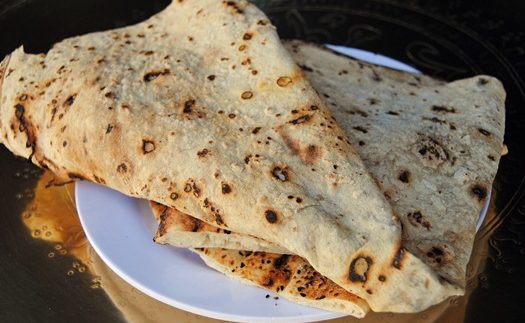 This isn't the first time we've visited this quality Syrian dining spot. Packed with home-cooked goodness, its never-ending menu and reasonable prices keep us coming back (or more truthfully, ordering) time and time again.
Located in Dokki on Mohy El Din Abou El Ezz Street, Dar Gdodnah serves up an extensive menu – comprised of Syrian home-cooked meals and other Egyptian and Arabic classics. As it seems to have a little something for everyone; enjoying a laid-back lunch or dinner as a group is simple to manage, while for larger parties, you'll find plenty of seating options upstairs with a view of the street below.
For starters, a complimentary breadbasket is served with marinated green olives and dipping sauces that include olive oil with zaatar and chilli pepper.
The menu is lengthy, with many options to consider. Cold and hot appetisers range from 7LE-13LE. Our array came with baba ghanough, fatoush salad, garlic dip and spinach puff pastries. Both the baba ghanough and fattoush lacked in overall flavour and the sumac seemed to be missing from the latter, leaving it to taste more like a regular green salad. On the other hand, Dar Gdodnah's signature garlic dip and spinach puff pastries left us craving more – the garlic dip provided a potent punch and the touch of lemon to the puff pastries was delightful.
For 6LE, the lentil soup was spot-on with a sufficient amount of both lemon and cumin, pairing well with its creamy texture. Orzo, hulled grains and tomato soup are also available.
Although we tend to skip trying sandwiches, a few tempting options included charcoal-grilled shish tawouk on Shrak bread (12LE) and Dar Gdodnah liver, also on Shrak bread and for 9LE.
The main courses at Dar Gdodnah are numerous and primarily centre around a variety of grilled platters. Pigeon, rabbit, mutton, jumbo shrimp and veal are all available, though we decided to keep it simple and stuck with a whole chicken. For 42LE, it was tender and spiced with minimal ingredients. The chicken was served over a mound of rice and paired with sautéed carrots and zucchini.
We can't forget to mention our favourite part of the meal: delicious Shami mombar (26LE). Stuffed with rice, minced meat and nuts, the mombar was tender and infused with just the right spices including cinnamon.
Stuffed to the max, we couldn't indulge further but Dar Gdodnah does have desserts. Included is their signature konafa with nuts or halloumi cheese (10LE) as well as Om Ali with nuts (9LE).
If you're looking for an all-around satisfying meal with many options to choose from, look no further than Dar Gdodnah.