Dargedodna: Levantine Love
23 Mohy El Din Abu El Ezz Street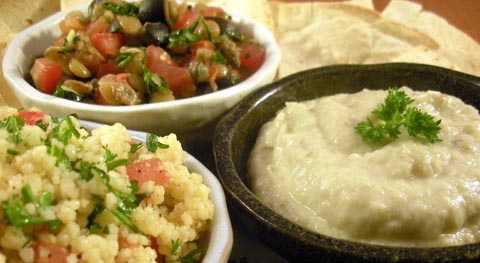 If you are lucky enough to
have a Shami grandmother; you probably already understand the ecstasy that is
cuisine from greater Syria. If not; consider visiting Dargedodna, Egypt's
exceptionally convincing solution to Syrian home cooking.
Serving up home-style
Levantine favourites in a comfortable and unpretentious location in
Mohandiseen, Dargedodna is an excellent option for a leisurely weekend lunch
with friends and family.
Menu options are extensive,
beginning with a wide selection of soups and hot and cold mezzas, and moving on
to a full range of sandwiches, grilled meats, fish and Arabic classics like molokheya
and bamia.
We wanted to order
everything, but decided to try the things that the Levant
makes best, beginning with lentil soup (6LE). The soup was a perfectly balanced
blend, rich with lemon and cumin; it surpassed our high expectations and
whetted our appetites for the next course of hot and cold mezzas (5LE to 12LE).
We sampled the fatoush, a
crunchy and fresh take on the classic salad. We feasted on high-quality house
olives; and rich and creamy hummus in addition to perfectly prepared kebbeh and
spinach, zaatar and halloumi cheese pastries. Each dish was well-prepared and
spiced; although the pastry dough could have been fluffier and fresher.
The real attraction of Dargedodna
lies in the wide selection of grilled meat platters served as main courses. We
left the sandwich selection behind, which includes meat and chicken shawerma,
shish tawouk and liver options, and headed straight for the good stuff: a whole
chicken grilled over charcoal and served with vegetables, French fries and
garlic dip (42LE) and Molokheya with chicken (27LE).
The chicken was blackened and
tender– the perfect antidote to a craving for grilled meats, while the molokheya
was prepared just as we like it: soupy, garlicky and with plenty of chicken and
lemon to spare.
Other must-tries include bamia
with mutton, fish sayadeya, the Palestinian classic dish of mansaf, and the
chicken shawerma platter. All meat dishes are served with large side portions
of vegetables and fries, with prices ranging from 19LE for the liver platter
and 25LE for a massive mahshi platter, up to 160LE for kilos of shish tawouk,
shawerma and shrimp. For dessert; don't miss the cheese and nut konafa (10LE).
If you want to go all out,
Dar Gdoodna offers specially prepared dishes for up to ten people by advance
order. The turkey stuffed with rice, meat, nuts and Syrian spices is a very
special treat and a deal at just 390LE.
For all your Levantine
cravings; head to Dargedodna, your adopted Syrian grandmother, for the best of Shami
home cooking in Cairo.