Dietlicious: Low-Calorie Meals & Snacks from Delivery-Only Cairo Eatery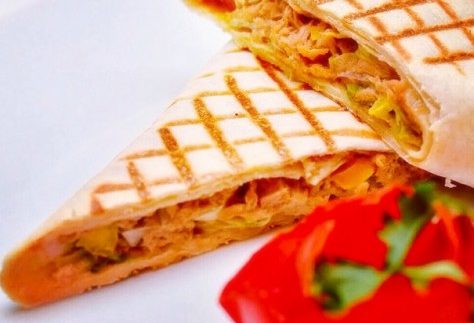 Across the electic Cairo dining scene, the city's emerging obsession with health, fitness and nutrition has led many food and beverage entrepreneurs to go out of their way to offer healthy options for the calorie-counters among us.
Dietlicious, Cairo's newest delivery-only healthy food restaurant, has just joined the health craze, with a seemingly well-put together menu of low-calorie meals that claim to offer your dietary needs wrapped in sandwiches, tossed in salads and baked in desserts.
We opted for the Dietlicious specialty, oil-free Air Fried Fries (11.95LE), their 399-calorie Chicken Caesar Salad (26.95LE), a Grilled Chicken Wrap (19.95LE) and their miniature 150g Rib Eye Steak (69.95LE).
One can't help but be intrigued by 'air-fried; fries, but they were a complete disappointment; flavourless, limp, mushy.
The Caesar Chicken Salad consisted of lettuce, croutons and grilled chicken. Lacking seasoning or any real flavour, the salad was bland at best, even with the salad dressing which wasn't nearly enough to give it a flavour boost.
When it comes to steak, you expect to to be asked how you would like it cooked – which was overlooked by Dietlicious. Opening up the secure plastic containers, the Rib Eye looked appetising, but in reality, the steak was overcooked beyond belief, leaving chewy and hard to swallow. The accompanying side of steamed vegetables was well cooked, but like so much of the food we ordered, it was bland in flavour.
The only enjoyable experience was the Grilled Chicken Wrap. Wrapped in toasted Tortilla bread, the leanly cooked grilled chicken is topped with just the right amount of cheddar cheese, tomatoes, lettuce and a good quantity of light mayonnaise which, surprisingly, did not lead to soggy bread. Overall, the sandwich was ideal in portion, packed with flavour and held itself together.
Of the three-item dessert menu, we opted for the Flourless Honey-Almond Cake, (7.95LE) which is said to be just 260 calories. Although soft and spongy on the inside, the cake was rather dull and tasteless, salvaged only by the sweetness of a side of side of honey-syrup.
Any new restaurant or food service that makes a conscious effort to produce healthy food should be applauded; but when it comes at the expense of flavour, you can't help but wonder, "What's the point?"