Dishes: Comfortable Outdoor Dining in Maadi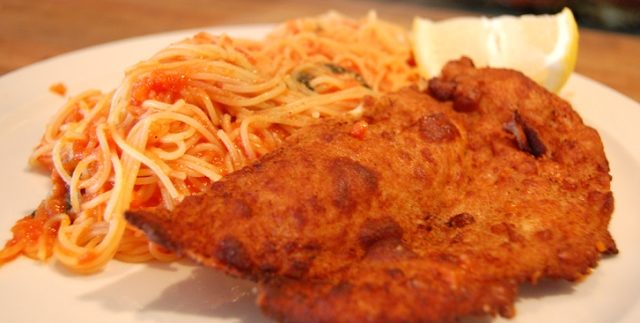 Recently, we've been going checking in on some of the longer running Cairo restaurants to see how 'things' have been going. Our most recent endeavour took us to Dishes in Maadi.
The relatively small venue in Degla, set up in the side area of a large building, boasts a typical comfortable outdoor area plus shisha and big screens combo, targeting mostly a younger demographic, particularly football fans. The semi-circle couches with the bright orange cushions, combined with the dark wood of the tables and grey plastic chairs reflect all the colours Dishes use in their long and creates a nice colour scheme throughout the venue.
They have an all-around menu that has options for breakfast through to dinner, including soups and salads and a large number of cold and warm drinks. Nothing exceptionally creative, however, just a lot of options.
We walked in and found some seats, a few moments later a waiter greeted us at the table and gave us menus. After some browsing we opted for a Magic Chicken Milanes (51LE) and a Chicken Tandoori (46LE). Main courses come with either a side of pasta with red or white sauce, or two sides of the regular sides like sautéed vegetables and mashed potatoes.
The food was relatively late which we found a little disappointing considering the restaurant was empty.
The Chicken Tandoori was quite tasty, with large chunks of tender chicken floating in a creamy, slightly spicy, curry. We had ordered a side of rice and sautéed vegetables. Both were very disappointing. The rice was overcooked and tasted cheap, while the sautéed vegetables were bland and slightly crunchy.
The Chicken Milanes was similarly disappointing. The chicken tasted stale and the seasoning was off, while the side of spaghetti with red sauce tasted virtually no different to pasta made at home with packaged sauce and not fresh tomatoes.
The all-around experience wasn't very good. While the outdoor setting is decent, the slow service combined with very average food fails to impress. Perhaps a good spot of a cold drink with a shisha, but you should probably skip the food.