Dragon House: Eclectic Asian Cuisine in Cairo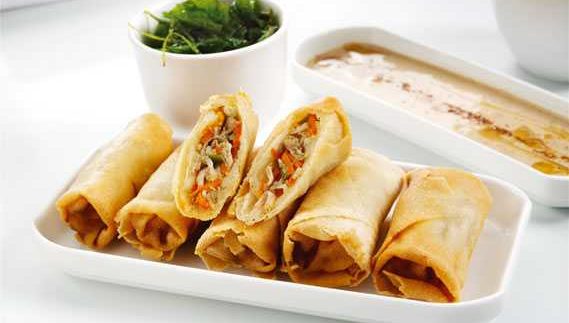 One thing that we've learned
during our search for the best restaurants in Cairo is that the best food may
not always come in the most attractive package. Dragon House on Road Nine in
Maadi is no haven of luxury, but the mouth-watering food tastes temptingly
close to what we would find in a white Chinese delivery box from New York's
Chinatown.
As the closest thing
authentic Chinese takeout food in Cairo,
all dishes have the right amount of greasy flavour with powerful sweet and
sour, ginger and chilli sauces and enough options to suit any palate.
For those craving that
particular American Chinese takeout, and even for those who have yet to
experience the satisfaction of an MSG-infused pile of fried rice and peppery
chicken kung pow, the signature white boxes that we see in TV shows like Friends should be enough to tempt you to
Dragon House.
Whether you crave
steamed veggies in thick Sichuan sauce, beef and broccoli sesame sauté or a
plate of tempting egg noodles,
Dragon house serves up dishes with gusto.
Dragon House has its own
particular charm, accented by tacky Asian-inspired décor that might have been purchased
off a Chinatown city street circa 1995. With
succulent and flavour-packed sauces, crispy sweet and sour chicken and the best
beef broccoli sauté around, the restaurant offers an authentic and delectable
Asian dining experience.
The waiters and hostesses
are both Asian and Egyptian, offering personable, prompt service, and taking
the time to greet returning customers. The kitchen attracts a truly diverse international
clientele, perhaps a reflection of the menu.
Each table is set with
three small dishes holding thread-thin potato shavings, salty pickled cabbage
kimchi, and peanut and spicy pepper salad. Be sure to sample the appetisers;
chicken spring rolls are a highlight. Main dishes range from 30LE to 75LE and appetisers
are in the range of 20LE to 40LE. The sweet and sour chicken has a crispy but not
overly greasy texture and the sauce is a tasty glaze. Noodles are packed with
flavour– sometimes a bit overly salty– and come with crisp carrots, onions and
chives that swim in a generous sauce.
The menu has a range of
beef, chicken, seafood and vegetables, with Chinese, Korean and a few Thai
options to boot. Pork is also featured on the menu, as a staple in Chinese
cuisine. Crispy fried coconut shrimp and creamy green curries come highly
recommended from the Thai section. The menu is truly extensive, so if you go in
a large group you can order a varied selection and get a taste of everything.
This is not your average
dining experience in Cairo, and those in search of atmosphere or elegance will
not be pleased with Dragon House– that is, unless you enjoy a somewhat faded
but roomy Asian-inspired theme. Still, the food satiates cravings for anything crispy
or fried with yummy sauces. Plus, it's no sickening fast food joint; so let it
be your guilty pleasure.