Capital Business Park, Sheikh Zayed

Featured image via Eatery
Going all the way to Cairo Festival City for people who reside on the west side of Cairo was definitely a huge hassle. Thankfully, Eatery has opened a branch in Sheikh Zayed, and we just had to give it a try.
Located inside Capital Business Park, Eatery has pretty much very similar vibes to its CFC branch, but it's definitely cosier. The indoor area feels like a greenhouse full of positivity and great energy. There's also an outdoor area, which is great for enjoying their breakfast menu.
Last time we went there, there weren't any chicken dishes on the menu, but the menu got updated with a decent selection to please chicken eaters. Our order was quite diverse this time, as we went with the Indian Chicken Curry (140 LE), the Spicy Salmon Chirashi (135 LE) from their sushi menu, and the B.O.B Burger (110 LE).
It was a slightly rough start with the Indian Chicken Curry. Besides the mango chutney that never made it to our table, the presentation was extremely off, and the pieces of chicken were inconsistent in size and weirdly huge. When it comes to flavours, the curry sauce was quite good with a pleasant sweetness to it, the chicken wasn't the juiciest for sure, and the rice was pretty basic. We don't feel like the dish follows Eatery's standards in general.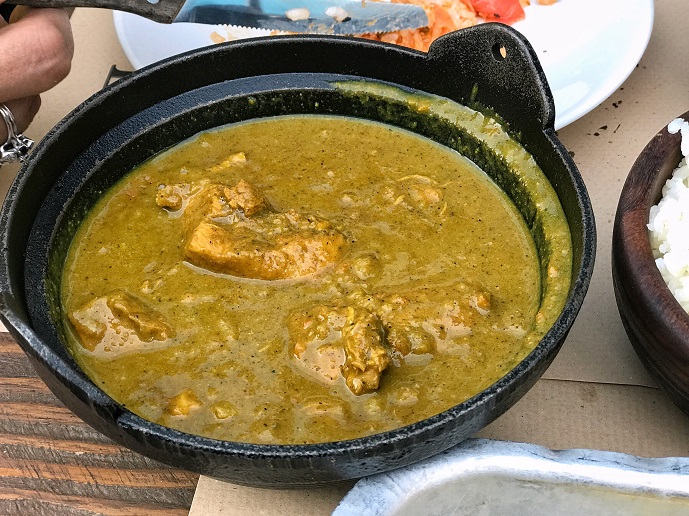 Meanwhile, the Spicy Salmon Chirasi was flawless. A bowl full of sushi rice topped with the freshest sliced salmon, showered with spicy ginger soy sauce that lived up to its name and added bold flavours to the dish. The dish also contained sesame, wasabi, and pickled ginger. It was a pretty fun dish, but it could be a bit too spicy for some people.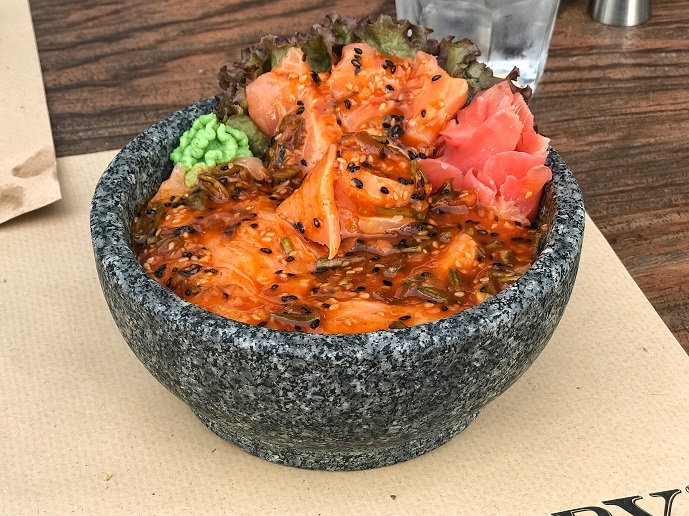 The burger, on the other hand, had its ups and downs. We absolutely loved the patty which had a fantastic texture, was very juicy, and perfectly seasoned, and the side of hand-cut fries was highly appreciated. As for the bun, it was very soft and had a remarkable crust. The presentation, however, was a bit sloppy; the onions slices were too thick and, like the chicken, inconsistent in size and the 20 LE slice of Emmental cheese was actually Red Cheddar which we didn't mind at all, but it wasn't what was mentioned on the menu. Furthermore, it was too small a portion of mushroom for an extra charge of 20 LE; there was a similar issue with the 22 LE of extra bacon. Given our additions to the burger, it went from costing 110 LE to costing 172 LE. Not to mention that when we were halfway eating the burger the waiter remembered to bring the tray of condiments, but we honestly didn't need it for that flavourful burger.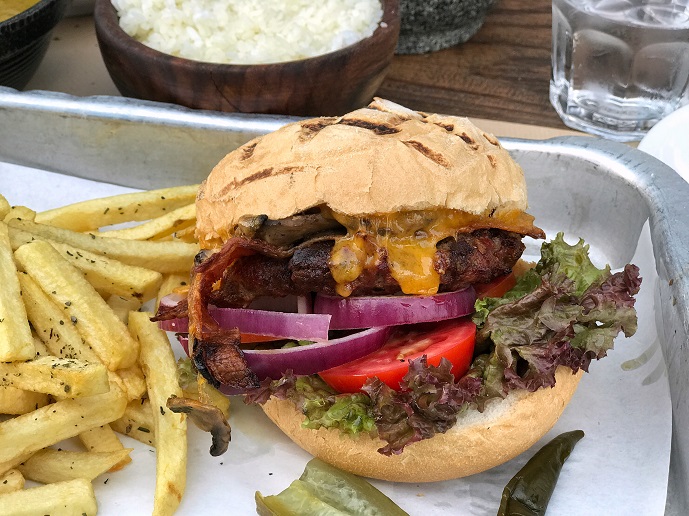 We finished our meal with Scomposta Dolce (85 LE) for dessert; a bowl full of mildly sweet crème anglaise, pieces of delish puff pastry, meringue, fresh fruits, and a drizzle of berries sauce. Think of it as you would a beautiful and deliciously deconstructed mille-feuille.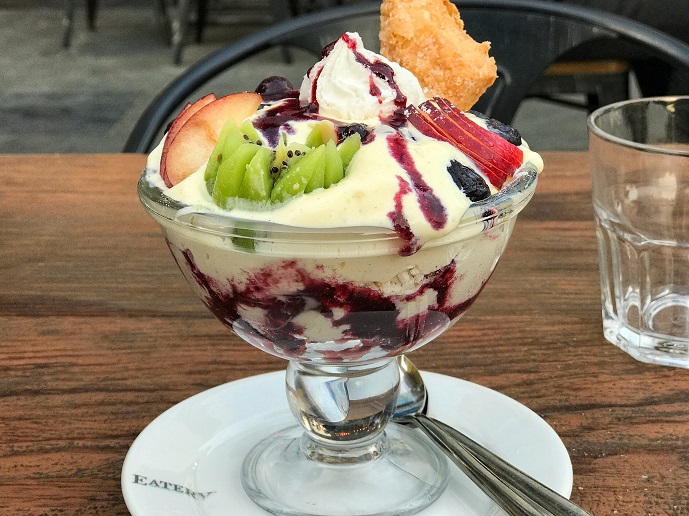 Unlike our previous visits to Eatery, this one had its ups and downs. Don't get us wrong, we still had a pleasant time, and the food was good overall, but not the usual flawless experience we always have there.