El Chico: Fantastic Fiesta Fun
City Stars, R53 5th Floor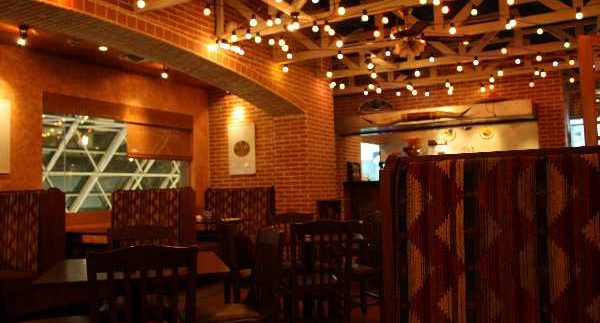 Let's play the word association game. What comes to
mind when you think Cinco de Mayo? If you think nachos, sombreros and chili con
carne, we suggest you celebrate this Cinco de Mayo at El Chico, CityStar's new
Mexican restaurant. You're sure to get in the fiesta mood while dining under colourful
tea lights, listening to the Gipsy Kings and surrounded by Frida Kahlo self-portraits.
Although El Chico isn't planning anything special for
Cinco de Mayo, you can still celebrate the holiday with their Cinco de Mayo appetiser
sampler: the dish comes with five favourites including a cheesy chile rellenos
sauce, a lettuce-topped chicken chalupa, chicken fajita nachos with jalapeño
peppers, fresh spinach quesadillas and crunchy chicken pablano taquitos. In the
middle of this Mexican food tornado is a fried tortilla bowl filled with freshly
melted queso. Although the taquitos are a bit greasy, the spinach quesadillas are
incredible. The appetiser is so tasty and filling, you'll hardly have room for
the delicious entrées to come.
The fajitas mix grill entrée will totally rock your
world. Strips of perfectly marinated carne asada, grilled chicken and shrimp served
atop a bed of green peppers and onions come sizzling on a steaming hot plate. The
entrée is served traditionally with a temperature-sensitive container of warmed
tortillas, and a side of rice and beans.
The Mexican sampler platter, with two different kinds
of enchiladas, a bean chalupa and a beef taco, is a huge cornucopia of flavour.
The bean chalupa is basically an open tostada with a thin layer of refried
beans and lots of lettuce, cheese and tomatoes. While the dish was a bit underwhelming,
the enchiladas were a whole other story. The cheese and onion enchilada with
chili con carne sauce was especially yummy!
The Mexican apple pie dessert, which was recommended
by the staff, is a generous slice of a prebaked apple pie served steaming on a
hot plate. A big, fat scoop of delicious cinnamon ice cream sits on top of the slice.
It was the perfect balance of warm, baked pie and cool, firm ice cream.
On top of all the wonderful food, the waiters were
polite and attentive. The manager even came by to ask how the food was.
Although the service was lovely, the food is considerably expensive. A dinner
for two can cost around 250LE with appetisers around 35LE to 50LE and fajitas
ranging between 50LE to 80LE. Burritos, tacos and enchilada entrées will cost
you around 40LE.
Now all Cairenes that have complained endlessly about
the lack of good Mexican food in the city will have absolutely no excuse to not
head on over to El Chico. Olay!